It's not just the music; it's the lifestyle. And for the past three decades, the rock band Phish has created a community of devoted, and some might say obsessed, fans all over the world who can't get enough of the band's groovy jams. If you love them, it's easy to get lost in the band's music as you soak in the love and happiness they bring with them on tour.
Over the course of the band's time together (and a few times apart here and there), Phish has become one of the most significant live music influencers ever, from the band's humble beginnings in a dining hall at the University of Vermont back in 1983 to headlining major amphitheater shows ten years later. Although the band never received much radio airplay or mainstream media exposure, it has continued to grow in popularity over the year by word of mouth, as well as sharing their unique blend of music through live recordings.
And speaking of delicious blends…in 1997, the Vermont-based ice cream kings, Ben & Jerry, concocted a now-perennial favorite flavor in the band's honor. Phish Food is an amazing blend of chocolate ice cream with gooey marshmallow swirls, caramel swirls, and fudge fish. Decadent! A portion of the proceeds from sales of this flavor goes toward environmental efforts in Vermont's Lake Champlain Watershed, making the band hometown heroes as well.
Over the years, the caravan of Phish Phans continues to follow the band as diehard veterans of the music fest scene meet newbies to the Phish lifestyle. One such phandom is the Phish Chicks, a group of over 6,600 women from every corner of the United States who have created an online sisterhood to celebrate the music they love. They have taken that love one step further by hosting Secret Santa music-themed gift exchanges throughout the year to connect on a more personal level.
Phish Chicks were front and center this summer as the band kicked off its tour with several shows in Chicago, followed by a 13-night run at New York City's Madison Square Garden from July 21 to August 6, 2017. Each night featured a colorful donut theme, as well as a unique set list with no repeated songs. The shows, called "The Baker's Dozen," marked the 52nd time they had played that arena since their first appearance in December 1994. To mark the occasion and the conclusion of this historic run, New York City Mayor Bill de Blasio dubbed August 6, 2017 "Phish Day In NYC." From there, Phish wrapped up its summer with several dates in Colorado for Labor Day weekend.
"The [Phish Chicks Community] was formed in  February 2017 in order to bring together the female fans of the band Phish," explains Facebook community manager and Elfster gift exchange co-organizer Bethany Barker. "We do meetups on tour, for [live concert] streams, and just in general to meet like-minded ladies. We did our first tour meetup with the tour opening run in Chicago, then had one in NYC and had one in Denver for the Dick's Sporting Good Park event."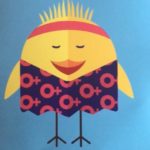 Bethany has included a friendly welcome for visitors to the Phish Chick's Facebook page:
This group was created to honor our phishterhood, to have a forum for something we all love, it's not just about music, it's about the community it has created for each and every one of us. It is about the feeling you get when you heard the first chord of your favorite song, the experiences each song reminds you of. This page is to be open, honest and kind to our fellow sisters. Please stay on that track, make phriends and share moments. Enjoy Phish Chicks! -Bethany
Encouraging these "phriendships" and spreading generosity is where Elfster has come in handy for the group. There's a simple story behind how Bethany found Elfster: "I had Googled gift exchange apps and it popped up and seemed easy, so I signed up and created a link and posted within the group." The rest is history, as the group is taking part in its fourth exchange using the site this October.
"We are a women only, all encompassing group and using Elfster for our gift exchange has made our connections more fun and stronger," says Bethany. "We welcome all music fans who love Phish or want to get to know more about the band and meet like-minded ladies."
Phish Chicks Pay It Forward
And the benefits far outweigh the expectations for the Chicks in these gift exchanges, according to co-organizer Margaret Spahr. "We expect when ladies join that they will fully participate, make new friends and connections all over the United States," she explains. "My favorite part is the excitement and anticipation of receiving a surprise in the mail as well as seeing what other ladies have received and sent."
And it's great to know that on those few rare occasions when things haven't gone as planned when it comes to exchanging gifts, several members of the group have gone the extra mile to pay it forward for a sister.
As Margaret explains, "I think [Elfster] is a great platform. It does most of the work for you. It's tricky though because we have no control over if people give on their end. This is why we encourage ladies to join only if they are going to fully participate."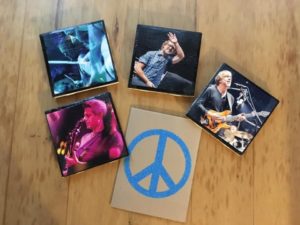 "Part of the fun is giving and receiving," she adds. "A really cool thing about our group is the Chicks coming together. For example, in the first exchange, I didn't receive a gift and another Chick (not my elf) reached out and sent me a Phish Tour Care Package. I, in turn, did the same for another Chick who didn't receive anything. I have seen this happen a few times over the past 3 exchanges and hopefully as we progress, this will occur less often," she adds. "The gift exchange is a fun way to bring together an already closely knit group of women who share a love for not only Phish but the music and lifestyle that we all enjoy."
Margaret also shared the heartfelt story of how a real-life meetup with her secret elf has lead to a long-term friendship, as her new-found Elfster friend recently experienced the loss of her husband. "I would never had met such a beautiful soul as I did in Elisa if it weren't for the Gift Exchange. It has been a blessing to know her," she says. "I made a real connection with Elisa and her journey. We have visited and kept in contact we talk just about every day. This weekend we will be traveling to be at a Celebration of Life for her husband."  When life is a challenge, nothing beats the bonds of sisterhood.
What Do You Get Your Favorite Phish Phriend For a Music-Themed Gift Exchange?
"Lots of what we do are surprise custom Phishy gifts," explains Bethany. "The element of surprise is something we all enjoy within the exchange."
Margaret agrees when it comes to awesome gifting. "It's fun to see what people get and send," she says. "I have made homemade coasters with photos of the band or personal photos that I request from my giftee, as well as purchased items made by other Phish Chicks through sites like Etsy. I have received handmade headbands, stickers, and a pair of Phishman sunglasses in the past exchanges."
"I have seen Chicks receive paintings, posters, jewelry, bags, stickers, all sorts of fun stuff," she adds. "It doesn't have to be Phish related, but it's more fun if it is and it's fun to see Chicks get creative with their gifts. I have made some really wonderful connections with ladies that I exchanged gifts with."
So thanks to the Phish Chicks for sharing their story of fulfilling wishes for those in their community. Time to hit the road for the next show…
If you go there, and after you do

All of these dreams would be yours to pursue

The rest of your lifetime devoid of a care

If you keep your eyes open, you may find yourself there

Performed by Phish

Lyrics by Anastasio/Marshall/Herman
Do you love Phish and want to connect with the Phish Chicks on social media? Join their Facebook Community to check out their current projects.
Looking for a great way to spread a little generosity in your own community? Organize a free, online Secret Santa-style gift exchange with Elfster. It just takes minutes! Want to connect with the elves at Elfster? You can reach us via Facebook, tweet us @Elfster, or catch us on Instagram at @Elfstergram.