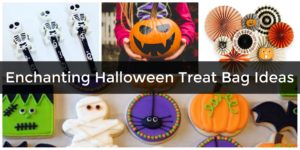 I haven't always loved Halloween as much as I do now. I was a timid and sensitive kid so, naturally, Halloween was never my favorite holiday. It was too scary for me and all the candy gave me a tummy ache. But that all changed when my third-grade teacher, Mrs. Campbell, threw a Halloween classroom party. We bobbed for apples, drew faces on pumpkins, and danced to the monster mash. The best part, though, was the treat bags.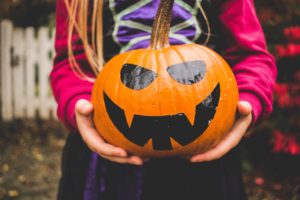 Three parents were put in charge of making Halloween treat bags for us and, as if by a spooky streak of luck, my mom and my aunt were two of them. Needless to say, I had a lot of opinions about what should go into those bags—and I made sure they were known. I wrote a long list of requests, starring the items that were absolute necessities, live black kittens and real magic wands among them.
Obviously none of my extravagant, fantastical ideas made it into the bags but, nonetheless, they did not disappoint. Cute cloth bags adorned with Halloween prints were filled with an assortment of Halloween-inspired goodies and fun knick-knacks. One peek in the bag and I was hooked on a holiday I'd previously dreaded.
Whether you're a teacher or a parent putting together goodies for a school classroom party, I've got some great ghoulish Halloween treat bag ideas. From tasty treats to spooky school supplies to a DIY reusable trick-or-treat bag, these ideas are sure to be a hit with the kids—even the ones who are on the fence about Halloween.
Scary Good Edible Halloween Treat Bag Ideas
Most kids love Halloween candy (I was an exception), but they also get a lot of it from trick-or-treating. So, why not fill the gift bag with unique, wholesome goodies the kids don't typically get on Halloween? Despite these ideas being a little healthier than your average candy bar, I promise the kids will love them just as much—if not more!
Handmade Halloween cookies: What kid doesn't love a good cookie? And when it's shaped like a pumpkin, ghost, or witch hat then decorated with fun-colored frosting and sprinkles, you can't go wrong. The great thing about making your own cookies is that you can control the quality of the ingredients and the amount of sugar so the kids won't turn into little goblins for the rest of the school day. Find a basic sugar cookie recipe, get some creepy cookie cutters, and start baking! Just remember to be mindful of any food allergies or intolerances the kids may have.
Chocolate-covered strawberry ghosts: This sweet treat harkens back to that third-grade party and the treat bags my mom and aunt helped put together. Simply wash and dry whole strawberries, leaving the green top intact. Next, melt enough white chocolate to coat them all and dip each strawberry into the chocolate. Let them harden on a piece of wax paper, then use melted chocolate (either milk or dark) to draw spooky ghost faces on each one. Pack the berries into cellophane bags and store in the refrigerator until the day of the party.
Witch's popcorn mix: Little ones love popcorn—especially when it has an All Hallows' Eve twist! Prepare a large batch of popcorn and spread it over one or two large cookie sheets. Mix with candy corn and drizzle with melted chocolate. Once the chocolate sets, pack the mix into baggies and tie with orange and black ribbons.
Spooky School Supplies Ideas to Stuff into Treat Bags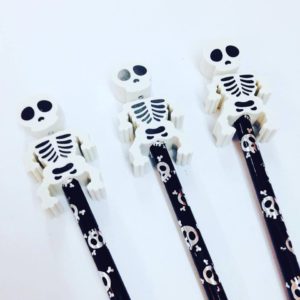 Since it is a classroom party, why not fill the treat bags with Halloween-themed school supplies the kids can use in class or share with their families? Don't be afraid to toss in other fun items that will come in handy during a night of trick-or-treating. Here are a few ideas for spooky school supplies and Halloween accessories kids will enjoy:
Ghostly erasers to fix their ghoulish errors.
Pumpkin-printed pens or pencils to write spooky letters.
Bat-themed notebooks to scare away the spelling mistakes.
Halloween stickers and temporary tattoos to adorn themselves with for the night ahead.
Glow necklaces to light them up for trick-or-treating.
Spider rings to spook the spirits away.
Slime to satisfy their inner mad scientist.
DIY Halloween Trick or Treat Bag Ideas
And now for the treat bag itself! There are a lot of cool ideas for treat bag crafts, but my favorite is a reusable tote stamped with Halloween prints like bats, ghosts, pumpkins, cats, and witches. The reason I love these so much is that kids can reuse them for next year!
The spooktacular supply list:
Blank canvas tote bags
Two potatoes (will make four stamps)
Orange and black fabric paint
Two paint brushes
Fabric markers (optional)
The eerily easy instructions: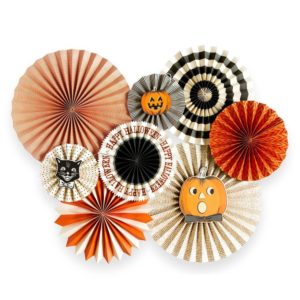 Cut potatoes in half and carve out stamps into Halloween shapes. The stamp should protrude so the shape imprints on the bag. To make it easier, use a marker to draw the shape's outline on the potato before carving.
Paint a stamp generously with one paint color.
Press the stamp down firmly on the treat bag and repeat as necessary. Touch up the design with the paintbrush if needed. Use a fabric marker to write fun phrases like "Boo," "Happy Halloween," or "Trick-or-treat" on the bags.
Let dry completely before you stuff them full of ghoulishly delightful goodies!
Get creative with these DIY Halloween treat bags—you really can decorate them in any way you'd like. Just be sure to have fun doing it! You can also involve the students in making their own. Let kids decorate their personal bags and write their names on them before the party so you know whose is whose. Then you can collect them, fill them with treats, and hand them out at the bash!
With an assortment of homemade goodies, some Halloween-themed school supplies, and a few fun trinkets, your DIY Halloween treat bags are sure to be a hit at any school classroom party.
And don't be afraid to put a fun and spooky twist on traditional treat bags by playing a You've Been Boo'ed gifting game. Kids can prepare their own goody bags for a secret someone and gift them when they aren't looking. It will be a hoot! Just remember, my partner in some criminally fun gifting, the most important thing is that the kids have fun—and experience the magic that is Halloween.
Looking for more Halloween inspiration or wanting to start your own Halloween gifting game? Elfster is here to help make this Halloween the spookiest one yet. You can also connect with Elfster on Facebook, Twitter @Elfster, or Instagram @Elfster.