We couldn't find the cake. Somehow, while we were at dinner, the entire three-layer banana cake had completely disappeared.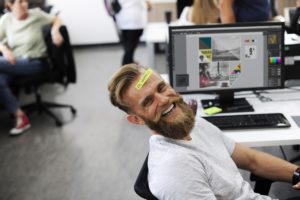 It was my dad's 40th birthday and, even though the rest of the night had been great, the missing cake put a damper on the evening. It wasn't until later that night that we discovered what had happened—when I woke up to my dog Judy sitting next to my bed, breathing hot banana cake dog breath right into my face! My dad found the cake tray hidden under the carpet in the dining room the next day and (thankfully) couldn't stop laughing. "Now THAT'S a great birthday gag," he cracked, in typical dad-joke fashion.
Sometimes the strangest things can bring humor to our lives, whether it's a surprise from a mischievous canine or a gag gift from a friend. And there's no better time to bring some laughter into someone's life than a 40th birthday. While you may pick a sincere gift to celebrate the adventures yet to come for someone's 30th, a party for a loved one's 4th decade on earth can always benefit from a little levity. So why not shake things up with a gag or two?
Whether you opt for a tangible gift, or something more experiential, these funny 40th birthday gag gifts for guys, and accompanying silly party ideas, will definitely get everyone laughing.
Throw a "No-Surprise" Surprise 40th Birthday Party as a Gag for Your Guy
In grade school, I once lost a pair of glasses by looking over the edge of a dock only to have them sink to the bottom of the ocean. Another time, I somehow left my specs in a cemetery. I was constantly losing things and forgetting about them (much to my parents' chagrin), but I eventually grew out of it—until I started growing back into it, that is! As I get older, I do find myself being a little more forgetful about the small stuff. From what I hear from my friends, it's something we all go through. So why not make light of it?
This funny 40th birthday party idea will confuse the birthday boy in the best way. Meet him at his house, then tell him you have a surprise to show him. Put a blindfold on him and announce you're taking him to a secret location. Get him safely in the car and buckled in, then drive around for awhile. What he won't know is that while you're out aimlessly driving around, his friends and family are gathering back at his house to set up the party.
Once the birthday boy's sense of direction is good and confused, take him back to the house you picked him up from. Nominate a party leader you can text when you're arriving so they can make sure everyone gathered gets quiet. You'll creep into the house with the guest of honor and then count down—1-2-3… SURPRISE!
When you take off his blindfold, he'll be shocked to realize that he's back at his own house. After the twisting, turning journey through town, he might be even more surprised by that than the fact that all of his friends and family have gathered to celebrate his big day. Either way, it's sure to be a celebration that you'll all be laughing over for years to come.
Reading Glasses for a Fashionably Funny 40th Birthday Gift
I'll never forget the time I got a pair of Oakley sunglasses for just $10. It was the deal of a lifetime, after all. Just 14 years old, I picked them out from a sidewalk vendor on a class trip—and was shocked when I later found out they were knock-offs. Still, I understood that a pair of sweet shades was something to get excited about. Whether you prefer Ray-Bans or Guccis, there's probably a set you covet.
For this fashionably funny 40th birthday gag gift, you'll be giving your friend a rude awakening—followed by a sweet surprise. On your own or as a group, chip in to buy them a pair of their dream sunglasses. But, before wrapping them up, make a swap. Slip a pair of "old man" bifocal reading glasses into the branded sunglass case, keeping the actual sunglasses somewhere safe. When they open the case only to realize that the prize inside is nothing other than a pair of drugstore specs, they'll laugh out loud—especially if you pair them with a "Happy Birthday, Gramps!" card.
But, they'll soon be smiling for a whole different reason when you pull out the actual sunglasses and present them with their real gift. And honestly, who couldn't use an extra pair of reading glasses to keep around the house? None of us are getting any younger!
Hiking Gear For Outdoorsy Friends to Help Them Climb Over the Hill
When my dad turned 40, he claimed you weren't "over the hill" until you're 50. When he was 50, he claimed it wasn't until 60. And when he was 60? Well, he finally conceded; he was proud of that big mountain he had climbed, thank you very much.
Giving a gift based on the over-the-hill pun alone can be a bit lackluster, but if your birthday boy enjoys spending time roughing it in the great outdoors, this joke of a present kills two birds with one stone. A nice pair of hiking boots, wool socks, or a season pass to a local National Park will do nicely. Just make sure to include a card that mentions which hill, exactly, the present is meant to help them climb. Everyone will get a laugh from the allusion to the old phrase, and the gift will actually be used. It's the perfect balance of goofiness and generosity.
The Upside-Down and Backward Funny 40th Birthday Party
My mom always says that her 40's were the best years of her life. She had a rewarding career, a family, and had finally figured out how to deal with the minutiae of everyday life that had caused her so much stress in her younger years. But, she admits that as her birthday approached she had been terrified of breaching that next decade. It turns out all her worry was for naught and life dealt her a lot of great surprises in those years.
In the spirit of remembering that you never know what the future has in store, consider surprising your friend or loved one with an upside-down and backward funny 40th birthday party to help them realize that while they may be worried about getting older, there's still a ton of fun to be had. No matter how set the future may seem, you never know what wonderful things might come your way.
Help your friend or loved one set up an online wish list on a site like Elfster so that you and the other party guests have an idea of what to get them for their birthday. Then, after purchasing a present from the list, wrap it in a box that once held something completely different.
For instance, a small present like a wallet could get wrapped in a TV box, and a square present like a book could be wrapped in foam and bubble wrap until it's round and squishy in appearance. The birthday boy will have no idea what any of his presents are, repeatedly stumped by the packaging—and then delighted to see one of the items from his list inside.
To really amp up the silliness, have the other guests show up with their clothes on backward, serve an upside down cake, and let the balloons rest on the floor. After experiencing the zaniness of their birthday party, the new 40-year-old will probably come to the realization that the next decade will surely be a whole lot less disorienting than the celebration they just lived through!
After our dog Judy ate my dad's birthday cake, a new tradition was born. Every year we hid his cake, sending him on a scavenger hunt through the house to find his celebratory dessert. We did learn our lesson and always kept Judy occupied when there was an unattended cake in the house, though, but, if I'm being honest, I let her in on the tradition by sneaking her a slice of every year after my parents had gone to bed.
You can make new, hilarious traditions and memories at your friend's 40th birthday party by presenting him with a funny present that'll bring some levity to what can be an intense transition into the next phase of life. He may be kissing his 30s goodbye, but just wait until he hears about all of the handmade over-the-hill gag gifts you're working on for his next big birthday—you the one, the Big 5-0!
Still looking for the perfect gift? Peruse the Elfster elves' carefully curated list of Gifts for Him. You can share your finds with us on our Facebook page, on Instagram @Elfster, or on Twitter @Elfster.