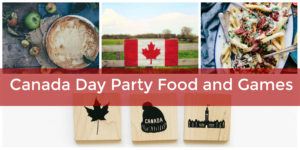 On July 1st 1867, the nation of Canada was officially born with the enactment of the Constitution Act. Today, the country celebrates July 1st with all things red, white, and Canadian. And just two years ago, the holiday marked Canada's big 1-5-0 birthday party. Celebrating the holidays of other nations is a fun way to explore pieces of history from an array of cultures that abound around us—like our red and white neighbors up north.
Let's help our friends celebrate with Canadian-themed party food and game ideas. Whether you're celebrating up north in Vancouver or Montreal, or anywhere throughout the USA, there are many festively fun ways to get in the maple leaf spirit. Explore how the elves will be hosting their very own Canada Day soireé complete with maple, bacon, Balderdash, and more that's sure to make guests happy from their bellies to their souls.
Classic Canadian-Themed Party Food Ideas for Canada Day
One of my favorite things about food is its ability to bridge gaps in geography. That's why when it comes to celebrating Canada Day, the menu is my favorite part of the party planning process. From appetizers to dessert, here are a few classic Canadian-themed party food ideas.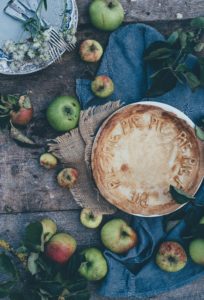 Apples and Cheese
For an appetizer, try setting out this simple yet entirely Canadian combo: tart apples and sharp cheddar cheese. Canada has a long history of apple growing, with Nova Scotia dominating the industry early on and more recent additions of apple growing provinces like New Brunswick, Quebec, Ontario, and British Columbia. They've created such apple varieties as the Crimson Beauty, Fameuse, McIntosh Red, Spartan, and the Arctic Apple.
So, too, have they had a longstanding relationship with cheese, with the introduction of cattle by Samuel de Champlain at Québec in the early 1600s. And, in addition to using this beloved and history-rich combo for an appetizer, Canadians often serve a slice of sharp cheddar alongside their apple pie—or right on top—for a wildly tasty flavor explosion!
Maple and Bacon
Canada is known for its intense love of bacon and maple syrup—a part of Canadian cuisine that has now become an embraced cliché. The maple leaf, after all, is the iconic symbol that represents Canadian pride on their flag and elsewhere. And, Quebec is the largest producer of maple syrup in the world, accounting for about 80% our maple syrup supply.
For one of the best tasting and most well-received Canadian-inspired party foods of all time (really, I keep making it again and again) try this pairing of crisp bacon and sweet maple syrup.
Cooking Directions:
Lay your bacon out on a baking sheet topped with parchment paper.
Drizzle it with pure maple syrup.
Pop it in the oven for 25 minutes at 425 degrees.
When you're ready to serve, you can stand them up in glasses so your guests can pluck out the sweet slices.
Gravy-Slathered Poutine.
If you want to get well and truly Canadian, serve Poutine (french fries slathered in gravy and cheese curds). It's a dish said to have originated in rural Quebec in the 1950s and has since taken on a life of its own with many variations, from cheesy lobster poutine to cheeseburger poutine to poutine hot dogs. If you're bold enough to experiment with this well-loved Canadian classic for your own party, check out the directions below:
Cooking Directions:
For basic poutine, first layer cooked french fries into a dish.
Mix in cheese curds.
Pour hot beef gravy over the top.
When the cheese melts, it's time to eat.
Blueberry Grunt Dessert
Canada is actually the world's largest producer and exporter of wild blueberries! This popular Nova Scotia dessert is made from just blueberries and flour dumplings. You cook it on the stovetop and as the biscuits steam, the blueberries make a "grunt" noise as they move through the dough. If you'd like to take your Canada Day par-tay outdoors, you can even make this one over a campfire!
Ingredients List:
For the blueberries…
4 cups blueberries
1 cup sugar
1 cup water
½ tsp lemon juice
½ tsp cinnamon
½ tsp nutmeg
For the grunt…
1 ½ cups flour
¼ cup sugar
2 tsps baking powder
½ tsp salt
2 tbls butter
¾ cup milk
Baking Directions:
In a skillet, combine your blueberries, sugar, and water, then bring to a boil. Let the mixture simmer uncovered for about 20 minutes until it becomes jam-like.
Remove from heat and add the lemon juice, cinnamon, and nutmeg.
In a bowl, combine the flour, sugar, baking powder, and salt.
Cut in the butter and stir in the milk, making sure not to over mix.
Roll the dough into balls and drop them into the berry mixture.
Cover the skillet and let simmer for 10-15 minutes. Serve warm.
Canadian-Themed Party Game Ideas for Canada Day
Over the course of my travels, some of the most fun-loving and ready for a giggle folks I've met are Canadians. That's why when it comes to board games, it's no surprise that some of the best and most hilarious ones out there are made by Canadians. Here are my favorite Canadian-themed party game ideas for your Canada Day party.
Canadian-Created Board Games
For a no-brainer party game on Canada Day, consider busting out the Canadian-created Trivial Pursuit, created in Ontario by Chris Haney, a photo editor for Montreal's The Gazette. Or, how about the board game of bluffing, Balderdash, created by Laura Robinson and Paul Toyne, also from Ontario. (Maybe there's something in the water up there.)
Put a Canadian playlist on in the background (think: Neil Young, Celine Dion, Leonard Cohen, and Arcade Fire) and let the classic fun of board game playing ensue. You can even serve your cheese and apple appetizer alongside your board games, or you can wait until the end of the night and serve your board games with a side of Blueberry Grunt for dessert.
Canadian-Inspired Scavenger Hunt
For an always fun and hilarious party game, go with a Canada-inspired scavenger hunt either outdoors or in. Have guests search for hidden Canadian treats that they can then take home as party favors.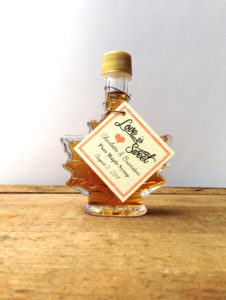 Here are some ideas:
Mini maple syrup bottles
Maple bacon donut holes
This July 1st, celebrate all things food and games with a red and white-colored Canada Day party. Not only will you introduce your guests to the sweet and tasty nature of Canada, but you'll inspire them, and yourself, to continue to learn about the spirit of other nations.
With a bit of history, a few games, and a whole lot of tasty food, there's a lot of festive ways to get in the Canadian spirit and ring in the big 150th birthday of that friendly place north of the USA. Celebrating community and life's joys—sounds pretty nice, eh?
For more ideas on unique holiday inspiration, explore our Other Holidays Gift Guide or connect with us on our Facebook page, on Twitter @Elfster, or Instagram @Elfster.