Sometimes, the best gift is simply being appreciated for who you are and where you come from. My alma mater, in the Bay Area, attracted a diverse student population—the racial makeup of our student body was like a youthful United Nations. Come Christmas, there was no right or wrong way to celebrate, as long as we all came together in peace, friendship, and joy.
My dormmates and I started a tradition of celebrating an eclectic Christmas together and, while each holiday was memorable, my sophomore year was a little extra special as a bunch of us got together to throw a "Christmas Around the World" party. We all came from different cultural backgrounds, so each of us chose a different party essential, from drinks to decor, to transform into a cultural monument to our heritage. The end result was a unique holiday I won't soon forget, and the feeling that I had finally recognized an invisible part of who I am.
Scottish Plaids to Celebrate the Christmas Spirit
Decking the halls is my favorite part of Christmas, so I lucked out by getting to dress up our common room with Scottish-inspired decorations. Scots are known for a love of plaid—each clan has their own tartan, a unique pattern that represents the family, much like a coat of arms.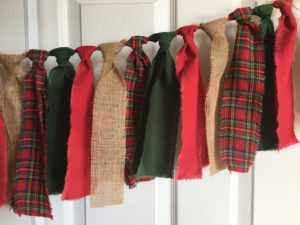 Luckily for me, my family's tartan involves an intricate blend of green, red, and gold, which made it the perfect pattern for Christmas festivities. While I couldn't find my family's exact tartan pattern at the local fabric shop, I found a close match that would double as a lovely holiday accent—and then I got to work on the decorations.
I started by taking the four yards of fabric I'd bought and cutting it lengthwise to create a 12-foot by one-foot runner for the buffet table. I then cut the remaining piece widthwise into as many two- and three-inch strips as I could get, about 55.
Using 20 of the strips, I tied festive bows around everything in sight: chair backs, wall sconces, door knobs, a ladle handle, and so on. With the remaining ribbons, I created a long garland. I started by tying the fabric strips every six inches across a length of twine about 18-feet long so the plaid pieces would hang down like neckties. In between each strand of plaid, I tied spare gift-wrapping ribbons in matching colors like green, gold, and red. Using a few push pins, I hung the garland along the first wall party-goers would see when they walked into the common room. Though it took less than 30 minutes to make, my garland created a rustic, homey atmosphere that honored my Scottish heritage.
As my fellow dormmates slipped in to add their own cultural offerings, everyone was delighted by the Christmas plaid banner. It was such a hit that when one of the party-goers brought her a Santa figurine to serve as a centerpiece for the buffet table, we secured a spare swatch of plaid around Santa's waist to give him a faux kilt!
South of the Border Meets the North Pole
Once I was done adding my Scottish flare, Arturo, whose family hails from Mexico, was ready to set up our main entertainment for the evening. While most people think of a piñata as a children's birthday party game, it's actually a traditional Christmas festivity in Mexico. I was lucky enough to get to help make the paper mache effigy of that year's festivities, which we fashioned in the shape of a snowman.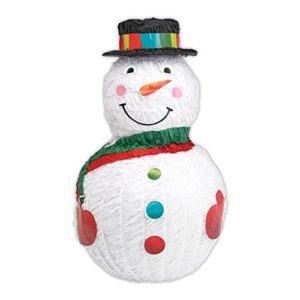 The Materials:
Two round balloons
Newspaper cut into 1-2" strips
A medium mixing bowl
2 cups flour
2 cups water
1 tbs salt
Multi-colored construction paper
Scissors
Cardboard
White crepe paper
Glue
Candy
Masking tape
The How-To:
Blow up the balloons, making one smaller than the other. Tie the balloons closed.
Mix the flour, water, and salt together in a mixing bowl to create the paper mache paste, stirring the mixture until it thickens and there are no clumps.
Dip the cut strips of newspaper into the paper mache paste and run your fingers along each strip to remove excess paste.
Apply the strip to a balloon, making sure to leave the balloon knot uncovered.
Repeat step 4, making a crisscross pattern, until both balloons are covered in a single layer.
Letting each layer dry between applications, apply 3-4 more layers to each of the balloons, then let dry completely.
Pop the balloons by cutting off the knot of each one. Glue the cut edges of the smaller balloon to the top of the larger balloon to create a snowman shape. Make sure the bottom balloon's hole is facing down.
Glue white crepe paper to the piñata. We decided to bunch the paper up to create more volume for a snowball-like effect.
Cut buttons, eyes, a mouth, a nose, and a scarf out of construction paper and glue them to the piñata. Then cut a hat brim and sides from the cardboard and paste on black construction paper to make a hat.
Fill the bottom, bigger balloon with Christmas-themed candy like caramels, mini candy canes, and chocolates, then cross two pieces of masking tape over the hole and cover with white crepe paper.
Using the tip of the scissors, make two small holes in the back of the piñata near the top. Thread some ribbon through the holes—and hang the piñata!
There were no comical accidents to submit to America's Funniest Home Videos, thankfully, but the piñata, and Arturo's DIY skills, were a huge success.
Paying Homage to the Island Life
As a West Coast school, the student body included a large number of Hawaiian students, many of whom lived in my dorm. We even had a Hawaiian Student Organization on campus, which would organize events around the year to bring the island life to California—and offered to cook for our holiday party.
Our spread was full of Hawaiian delicacies like lumpia, BBQ pork, fried shrimp, and potstickers. But the real hit of the party was the dessert—a spin on a Christmas classic that transformed the dreaded fruitcake into a delicious pineapple upside down cake. It was so special that I begged for the recipe.
What made this "fruitcake" incredible were all the extra Hawaiian treats added in, like macadamia nuts and banana. For an added Christmas surprise, cranberries replaced the Maraschino cherries. Our party dessert was a tribute to island culture—and all the wonderful goodies the tropics have to offer.
Delightful German Drinks to Warm the Spirit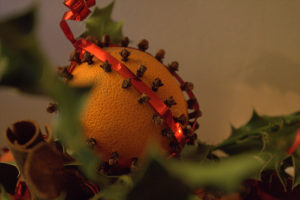 My roommate, Cassie, loves her German heritage and jumped at the chance to brew her mom's traditional German wassail. Wassail, I learned, is a type of warm, spiced cider made with a combination of fruit juices.
Germans like to sip warm wassail while singing their favorite Christmas melodies out in the cold winter air. It's such a simple and easy recipe that packs a ton of flavor into one comforting cup.
Cassie borrowed her mom's crockpot and added two cups apple cider, two cups pineapple juice, two cups cranberry juice, eight cinnamon sticks, one teaspoon of ground nutmeg, and one small slice of ginger to the pot. Then she stuck two oranges with cloves (about 40 per orange) and let the cloved oranges soak in the mixture. After an hour on low heat, we were all served mugs of the most delicious wassail I've ever had.
A Warm-Footed Brazilian Gift Exchange
That year's clever gift exchange was organized by Lara, whose family is from Brazil where Santa Claus is known as Papai Noel. According to Brazilian tradition, if a child leaves a sock in the window during Christmas time, Papai Noel will come and exchange it for a present.
Lara came up with the fabulous idea of turning this special Brazilian experience into a fun gift exchange. Before the party, everyone was asked to bring a pair of Christmas socks, as well as a wrapped gift, capped at $30 for us broke college kids.
As each guest arrived, they'd pin their name to their pair of socks and put them somewhere around the room, hung like ornaments or hidden in cushions or under tables. Throughout the night, if you saw a pair of socks you liked, you would swap them for the gift you'd brought, pinning the original sock owner's name to your wrapped present.
Towards the end of the night, everyone had to find the gift with their name tag attached, resulting in a few comical pictures that made the yearbook—especially the one of the poor freshman whose present was balanced at the top of the tree! Everyone got to leave with a new pair of Christmas socks and a gift from a secret Papai Noel.
I'll always be grateful for how willing my dormmates were to open up and share something personal from their heritage. Learning about their holiday traditions left me with a new appreciation for each person—and each culture—that I will always cherish. While I haven't made a pineapple upside down cake in a couple of years, I do follow the Brazilian tradition of hanging a sock for Papai Noel with my kids, and never let a Christmas season slip past without a mug or two of wassail!
Christmas is a chance to unite all the people in your life, even if everyone comes from a different background. If you're looking for ways to make your Christmas truly unique, check out more great ideas on our Facebook page, Instagram @Elfster, or Twitter @Elfster.