Bold, Courageous, Outstanding —
These strong and inspirational words serve to motivate an entire school community every day as they enter the soaring atrium of their Washington, D.C.-area high school that has faced its share of adversity in its 55-year history. This is the motto of Frank W. Ballou Senior High School, located in Southeast Washington's Ward Eight community, which has struggled for years with high truancy rates, low standardized test scores and low graduation rates. But a group of Ballou's staff members, lead by principal Dr. Yetunde Reeves, have turned to Elfster to help motivate each other as they welcome the new school year.
"This was an optional group for all staff members," Dr. Reeves explains. "We were recently reconstituted and have a large number of new staff members and this was a creative way to set a positive tone."
The theme for this Elfster exchange is a "Survival Kit" for the teachers to exchange with their secret elf, with a spending limit of $20 for those participating. Most of the teachers participating are wishing for classroom supplies to help create the positive environment they envision for their school, as well as gift cards for a well-deserved treat for themselves.
Dr. Reeves has used Elfster in the past for a holiday exchange for her staff members, as well as for past exchanges at other schools where she has worked, and we are so glad to be part of these motivational exchanges. Her commitment to the well-being of her teachers undoubtedly contributes to the morale of the entire staff, both new and old.
"[Elfster] makes it easier to match, track matches, and I like the features of the website," she explains. As the organizer, she also likes to peek at her participants' wish lists to see what they like as a way to get to know them better.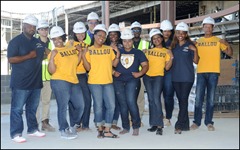 Having recently reopened its doors on a modern, brand new campus, Ballou High School serves as a flagship high school, as well as a major community asset in the Ward Eight. The Southeast quadrant of Washington, D.C. is notoriously known as an area of high crime within the metropolitan area, but the dedicated and knowledgeable staff share the belief of the school's mission: Facilitate high-quality instruction, provide a safe and effective learning environment and offer a continuum of student and family support services.
Ballou's new complex, which opened in January 2014, includes a performing arts theater, aquatic center, athletic and fitness complex, health center, day care center, 550-seat auditorium, culinary arts facilities, auto-tech shops being designed in conjunction with Toyota and media center, as well as academic, athletic, and administrative spaces. And new this school year, the school will open a hospitality and tourism career academy giving students even more opportunities for a bright future.
According to the school's website, "Ballou continues to build a successful legacy due to the knowledgeable staff who is dedicated to empowering every student to choose their own path upon graduation. Ballou offers Advanced Placement classes to give our college-bound students a competitive edge. Career preparation and technical classes ensure that those same students receive a well-rounded education. Ballou High School has a proud legacy of excellence. A nationally recognized marching band, competitive robotics team, and athletic teams that consistently prove that Ballou Knights are a force to be reckoned with, are a source of pride for students and staff."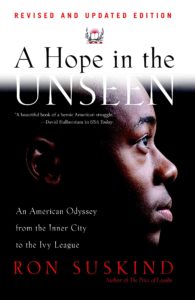 Ballou High School made the national spotlight in 1998 when author and Pulitzer Prize-winning journalist Ron Suskind published A Hope in the Unseen: An American Odyssey from the Inner City to the Ivy League. The book is a biographical novel about the life of Cedric Jennings and details his life as a determined honor student at Ballou in 1993, and then Brown University, an Ivy League School, which Cedric attends after high school. The book portrays the problems of inner-city education systems and how the students from these systems are affected throughout their lives. The book was critically acclaimed as one of the best books of the year and is considered a major influence in the country's debate over affirmative action.
Fast-forward twenty years, and Ballou High School continues to offer challenging academic programs to allow students to explore and reach their maximum potential. According to Dr. Reeves, "Our goal is to make sure that every student is successful at Ballou High School."
We wish these motivated teachers a wonderful and successful school year! We applaud your dedication to the future success of Ballou High School.