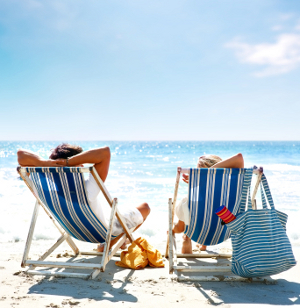 Summertime is here. Time to kick back, relax and enjoy the lazy days ahead. This summer, why not celebrate the season by hosting a summer-themed gift exchange with Elfster? We've got plenty of great ideas to get you started. Just add friends and family.
Secret Summer Swaps
Secret Santa gift exchanges aren't just for Christmas anymore. And Elfster groups all over the world are busy gearing up for the fun and carefree summer season. One group of fitness enthusiasts is getting "Fit, Fierce & Fabulous" as group members exchange inspirational gifts to help each other get beach-ready. Dozens of groups will be celebrating their summer babies' big days with special packages for their secret pals. And lots of book lovers will "Splash Into Summer" with an exchanges of popular e-books and paperbacks—a perfect way to relax at the beach or lounge poolside.
Another group hosting a "Summer Survival Swap" is ready for gifting and describes its exchange like this — "Oh, Summer! Season of sunshine, lip gloss, pedicures, fun drinks, long nights, good reads, arts & crafts, good music! Put together the most creative package you can spending $20 (no more & NO LESS so it's fun and fair for all!) Wrap & ship it pretty…." Sounds pretty perfect to us!
Celebrate with your Beach Buddies
Heading to the beach or on vacation with family and friends? Why not host a gift exchange of beach towels, outdoor necessities, or travel gear to kick off the festivities. The kids will love getting in on the secret exchange, like one large extended family using Elfster this summer to celebrate their time together at the beach. Looking for ideas to get you started? Check out Elfster's Beach Getaway Gift Guide for some hot gift ideas for a cool summer.
Host a Summer Soiree
Planning a summer gathering? Pick a theme and start an exchange for you and your guests to share fun gifts—summer barbeque essentials or unique delicacies are just a few great summer gift ideas to get your party started. One family is using Elfster to help plan an "Unbirthday Gift Exchange" to add a fun twist to their annual get-together. And even though they can't be together in person, one online community will be hosting a "Hometown Hop," swapping gifts to represent their own hometown's unique flavor. No matter what the occasion, Elfster has great summer gift ideas.
Make a Summer Connection
Can't get together in person this summer? Are you a part of an online community looking for a way to get to know each other better? Online communities all over the world use Elfster to help them connect. Why not start a summer swap for your unique group? It's easy to get started. It can be as simple as a handwritten "snail mail" letter or an interesting postcard, like two groups using Elfster this summer to get to know each other better.
Elfster's Summer Fun Gift Ideas Guides have something for everyone and just what you need for inspiration for your own wish list. Need help? We are here all summer long. You can reach us via Facebook here. Tweet us @Elfster or catch us on Instagram at @Elfster.