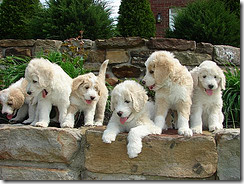 Cold nose, warm heart, and a cuddly bundle of unconditional love. They make us smile. They keep us safe at night. And many people would say that a house is not a home without a canine companion. So the elves at Elfster thought it was only fitting to share the love when doodle dog families from all over the United States and Canada decided to host a Secret Santa style gift exchange to celebrate their four-legged friends on Valentine's Day.
"If you don't know what a 'doodle' is, it is a standard poodle mix, such as a labradoodle, goldendoodle or sheepadoodle (there are many, many more doodle mixes, those just seem to be the more commonly known)," explains gift exchange organizer and doodle lover Kate Singleton.
Doodles came about in the 1990's when some North American and Australian breeders began crossing golden retrievers with standard poodles. The original purpose of the cross was to attempt to develop guide dogs suitable for visually impaired individuals with allergies. Since then, breeders began to cross purebred poodles with other purebred breeds resulting in a dog with the poodle's non-shedding coat, along with various desirable characteristics from other breeds. These easy to train dogs make smart, friendly pets.
In the fall of 2013, Kate and her friend Adrianne Matzkin formed an online social networking group called Doodle Family Group as a forum for all-things doodle. "It started out as a few people, maybe 40-50. As of right now, we have over 1,400 members," Kate explains. "The idea of Doodle Family was to have a safe, friendly place where people could go and share pictures of their dogs, ask questions without being judged, celebrate good times and seek help during rough times."
"Adrianne and I have both assisted in many rescues for doodle breeds," Kate says. "Not many realize the need that surrounds these mixes. They have many health problems, require a lot of time, attention, exercise and mind stimulation, grooming, training, etc. Many see them as a cute 'teddy bear' and expect that that is what they are getting when they purchase a doodle. Not the case. Sadly, they are very misunderstood dogs."
Doodle Lovers Gift Exchange
This is the group's first time using Elfster, which we hope will help these lucky dogs stay connected all year long. "At Christmas, we did a Secret Santa gift exchange which I did manually," she says. "With 160+ participants, it took what seemed like FOREVER. We also did a Holiday Card Exchange. A friend of mine actually [found Elfster] and bookmarked it to use for future exchanges. A few people from our group asked to do a Valentine gift exchange and a card exchange as well, so we ran with it!"
"We hope that the number of participants will grow as our group grows. As of right now, we have 75 people who have signed up to participate; I am hoping that we can get to 100. If not, we won't be disappointed!" Kate says. "How we are using the gift exchange is as follows: Each person will be assigned another doodle family. Everyone is given a suggested spending limit of $15 to be used at their discretion to buy toys, treats and/or accessories for the other families' doodle(s). The family will put together a box and mail it to their secret doodle family. Everyone will wait until Valentine's Day to open their gift. Pictures will be shared; thank you's will be posted. It was a lot of fun in December. We find that these exercises build relationships and strengthen friendships, which are our ultimate goal!"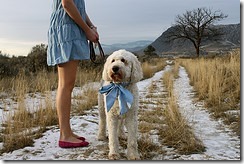 Not only do these dog lovers embrace the goodness of their own pets, but they are looking out for each other as well. "Since coming together, Doodle Family has held private fundraisers to help people and doodles in need," Kate explains. "We have helped different Rescue Organizations, doodles within our group that have become injured or ill, and at Christmas, we raised nearly $2,600 that we turned into Visa gift cards that we sent to 5 different military families around the U.S. to help with their Christmas. Our mission is to be a family, and family helps family. Our mission is to educate on doodle needs and issues, as well as problems that come with poor or uneducated breeding."
We hope these doodles have oodles of fun with their special gifts this Valentine's Day! Are you looking for just the right way to show your love for your favorite, four-legged friend? Be sure to check out Elfster's Dog Lover's Gift Guide here.
Woof!
photo credit:  LeAnn777, MarielleLouize