While baseball is credited with being the "official" American pastime, for many people barbequing would be the answer when asked what their favorite summer pastime is. The debate of gas versus charcoal has long been a topic for outdoor cooks to consider. Then, the discussion of what and how to cook can get started.
Elfster has found a group of people who are more than just your average backyard cook. They are seriously dedicated to the art of barbeque. The group are all owners of the Big Green Egg. The ceramic cooker/grill/smoker/oven known as the Big Green Egg – or BGE, for short – has a thriving community of enthusiasts around it, which has proven to be highly creative and very social. BGE aficionados – "EGGheads" or "EGGers," as they affectionately call themselves – have, on their own or in groups, conceived of, tested, and created myriad accessories for the Egg, ranging from custom-built "rigs" of movable grates and cooking surfaces to the design of the plate setter, a footed ceramic disc used when cooking over indirect heat. EGGheads also have used the power of the Internet, through forums like http://www.greeneggers.com and http://www.EGGheadforum.com, to swap recipes and techniques, share pictures of successes (or failures, which are equally instructive), and coordinate group buys.
This summer, the members of the two forums decided to host a gift exchange. This exchange will allow the members to swap their favorite sauces and rubs with another EGGhead. Using Elfster has allowed the gift exchange organizer, Carl "cazzy" Zepeda, to make sure that the people are assigned draws from another state, or Canada. By assigning people across state lines, they are hoping to get the chance to share favorite styles, recipes and ingredients from different regions with each other. The deadline for the gifts to arrive is June 28th, so that people in the United States will be able to celebrate the 4th of July by cooking with their new rub or sauce.
The exchange now has just under 60 participants, and they are busy corresponding with each other. The wishlists and the questions and answers are allowing the members to indicate allergies, dietary restrictions and taste preferences to help their partner find the perfect rub or sauce to send their way.
In addition to asking and answering questions, the forums actually gave rise to gatherings known as EGGfests. The original EGGfest, EGGtoberfest, was the brainchild of William "Bill" Miller, the creator of the first Egg forum. EGGtoberfest was originally supposed to be a "throwdown" between Egg users and fans of a competitor's product. When the competition never showed, EGGheads cooked and socialized among themselves, and the EGGfest was born.
Today, there are EGGfests all over the country, where EGGheads and food lovers come together to celebrate the BGE, culinary delights, and fellowship. Every EGGfest has its own "flavor," but everyone tastes good. Some are sponsored by BGE dealerships, while others are organized independently. Scattered across the country, EGGfests are a great opportunity for EGGheads to show off their latest recipes, taste great food, learn new techniques, and even buy a new "demo Egg" at a substantial discount. Most of all, it's a place for old friends to reunite and for new folks to make lasting friendships. If you are interested in attending one of these festivals in your area, check here to see if one will be held close to you this summer.
Elfster is thrilled to be part of this interesting and fun community. The gift exchange is a perfect way to celebrate the summer and allows the members to pass on some of their hometown secrets. Just thinking about all the delicious food that will be cooking on Eggs across the country makes our mouths water!
We would love to hear the story of your community and how you are using Elfster, too. You can reach us via Facebook here, or Tweet us @elfster.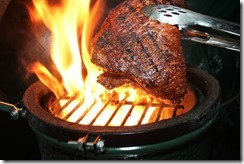 photo credit: John "R2Egg2Q" Yee