Tips and Tricks for Throwing a Last Minute Party for New Year's Eve
Tips and Tricks for Throwing a Last Minute Party for New Year's Eve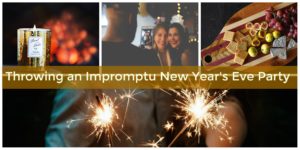 Impromptu—it's one of my favorite words, but funnily enough, impromptu gatherings always throw me for a loop. I prefer to plan and prepare for everything well in advance, but that changed last year when my husband and I decided to throw a last-minute party for New Year's Eve.
A day before the big countdown, we ran into a friend who asked if we had any New Year's plans. I tried to change the subject, as I was looking forward to a quiet night in with my husband. The conversation took a turn, however, and by the end, we were going to host a New Year's Eve party for eight of our friends.
While I was flustered by these last-minute plans, the experience of throwing an impromptu shindig ended up being a blast! I realized that a party could still be fun if I hadn't spent hours agonizing over the menu, hand-making decorations, or customizing a series of games for the occasion. Really, it's more about spending time with people you care about.
So, if you find yourself scrambling to pull together a celebration, I'm going to share my best tips and tricks for throwing a last-minute party for New Year's Eve. Trust me, impromptu parties can be a real hoot!
Last Minute Party Food Ideas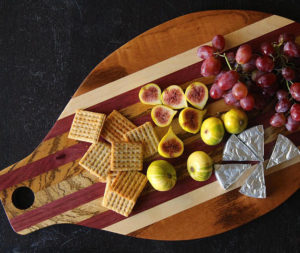 The food is usually what takes me the longest when it comes to planning any get-together. I come up with countless menus, test a few new recipes, and ultimately put together what I consider to be the perfect meal for the occasion.
That being said, the food at our last minute New Year's Eve party ended up being amazing. Instead of making a big dinner, I prepared a bunch of little snacks (many of which were store bought). Since there's a long way to go until midnight, grazing on tasty nibbles kept us awake and energized until the clock struck twelve.
Here are some other last-minute party food ideas that won't leave you slaving in the kitchen all night:
Have a potluck:

Share the burden of cooking with your friends by asking each of them to bring something yummy. Decide whether you are having a dinner or a bunch of tasty snacks, and leave it to them to whip up (or buy) something. Don't be afraid to ask for specific items, either. You don't want to have four hunks of cheese and no crackers!
Make a charcuterie board:

This is my go-to for any last-minute gathering because it doesn't involve any cooking and it is always a hit. Head to the grocery store and pick up:

3-4 different kinds of cheese

3 different types of cured meats

Mixed olives

Dried fruit (apricots or dates) and fresh fruit (apple and pear slices)

A baguette

Crackers
Once you have all the components, simply arrange them artfully on a big platter and pass out plates or napkins. If you have any vegans in attendance, find some veg-friendly options to sub for the meat and cheese so they don't go hungry. Hummus, vegan nut and seed pate, and smoked tofu are good choices.
Order in:

While some restaurants will be insanely busy on New Year's Eve, if you really don't have any time to prepare anything, ordering in is your next best option. Make sure it is something that is easy to share, like pizza, Thai, sushi, or Indian. Also, call your order in as early as you can. That way, even if the food takes a couple of hours, it will arrive at the perfect time.
Quick and Easy Decor Tips
I'll admit, I usually go overboard with decorations. But there was no time for hand-making garlands and party hats last New Year's Eve, so I had to think on my feet. Luckily, with a little inspiration from the internet, I came up with some quick and easy decorations that made our little apartment quite festive.
Here are a few of my last-minute New Year's Eve decoration ideas:
Repurpose Christmas ornaments:

I repurposed my sparkly Christmas bulbs by stringing them with fishing twine and hanging them from the ceiling with thumbtacks. I also strung up my little white Christmas lights around the living room to make it extra pretty. If you don't have any bulbs or lights, now is the time to pick some up! Ornaments will be on sale after Christmas so it shouldn't cost you much.
Candles:

Candles can instantly transform any space and make it feel super special. Gather all the candles you have or pick up some tea lights, arrange them artfully around the room, and dim the lights. Just be sure to keep an eye on them and blow them out at the end of the night!
My advice is to not stress too much about the decor. While you do want to set a certain festive mood, if you are pressed for time, just make sure the house is tidy and put on some fun music.
Game Ideas for a Last Minute Party for New Year's Eve
While your guests may not expect much when it comes to decorations, they will undoubtedly be looking forward to some New Year's Eve fun and games! After all, you've got hours to pass until midnight.
Here are some fun games to play as you wait for the ball to drop:
New Year's Resolution Matching Game:

This is probably my favorite

inspirational New Year's Eve game

. Have each guest write down three New Year's resolutions (on separate squares of paper). Then, mix everyone's together in a bowl, pick them out one at a time, and read them to the group. Everyone then guesses who each resolution belongs to, and the person with the most correct guesses at the end wins a prize! You'll have so much fun learning about each other's resolutions and seeing who has similar ones.
Icebreakers and Discussion Questions:

For a less structured game that takes no planning at all, try

unique adult icebreaker games

and fun discussion questions that get everyone involved. Categories is my favorite—simply have one person choose a category and everyone else has to think of as many items that fit into it as possible. For example, a category could be "Types of Apples," and the list would begin with Ambrosia, Granny Smith, Red Delicious, etc.
Whatever games you end up playing, whatever decorations you end up using, and whatever food you end up serving, remember that parties are all about having fun. And while I know this may seem obvious, I lost sight of that until we threw our impromptu New Year's Eve party. I used to get so caught up in having all the details as perfect as possible and making sure everyone else was fed and entertained that I completely forgot to have fun myself.
Sometimes, the best things in life aren't planned. Spontaneity—especially when it comes to planning parties—can be the secret ingredient for a great party if you have the right tips and tricks up your sleeve.
At Elfster, we want to help you have the best New Year's Eve party yet! Start an NYE gift exchange with us or get more party inspiration from our fantastic blog. You can also connect with Elfster on Facebook, on Twitter @Elfster, or on Instagram @Elfster.
Courtney has a B.A. in English Literature and a Diploma in Culinary Arts and Pastry Arts/Breadmaking. Holistic health and nutrition are her passions, natural and organic are her two favorite words, and farmers markets make her heart sing. She lives in beautiful Vancouver, BC with her husband where they hike, bike, and hit the beach—but jump at any chance to travel and explore the food and culture of other countries as well! When it comes to gift giving, she likes getting creative in the kitchen and baking yummy treats or going all out by cooking a fancy meal.
Latest posts by Courtney S (see all)
Please follow and like us: