Make Your Own Christmas Ornament Projects You Can Gift or Keep
Make Your Own Christmas Ornament Projects You Can Gift or Keep
There's nothing I love more about Christmas than decorating the tree. When I was little, my family and I would turn on our favorite Mel Torme Christmas cassette, fill a tray with Christmas cookies my mom had baked, pass around the eggnog, and begin merrily untangling the lights and hanging ornaments.
The best part was opening the box of ornaments and being reminded of all the wonderful memories attached to each one. And while they all had a special place in my heart, my absolute favorites were the ones I'd made myself. Each time I hung my homemade ornaments from a bushy bough of pine, I felt a special sense of pride.
Now that I'm older, I still love to make my own Christmas ornaments. Not only is it satisfying to hang them on the tree, they also make great gifts. So if you are feeling crafty this Christmas, here are my favorite make-your-own Christmas ornament projects you can give to your loved ones or keep all for yourself.
Beautiful Beaded Icicles
I am a huge fan of beaded ornaments because they are simple to make and just plain gorgeous. I love the look of these pretty, glittering icicles reflecting the shimmer of the string lights.
Feel free to use any color of beads you like for these ornaments. I typically choose a base color, then select a few colored beads for accents. Here are some winning color combos:
Clear beads with ice blue accents

Clear beads with gold accents

Pearly white beads with silver accents

White beads with metallic red accents

Metallic blue beads with white accents
Once you've chosen your beads, it's time to get started on your icicles! I recommend keeping each type of bead in separate dishes so they don't roll around on the table. That way, you don't have to dig through a big pile of assorted beads to find the one you're looking for.
What you'll need:
Loose beads of various sizes and shapes (you'll need smaller ones for the bottom of the icicle, medium for the middle, larger ones for the top, and accent beads of various sizes)

24-gauge silver wire

Small needle nose pliers

Thin ribbon for hanging

A lighter or match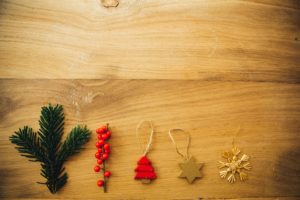 What you'll do:
Decide how long you want to make each ornament. I typically make mine about 2.5 inches long, but the length varies so don't worry about making them all the same. Just be sure to cut a piece of silver wire that is ⅓-½ inch longer to give you space for the ends.

Once your wires are cut, use the needle nose pliers to make a loop at one end of the wire so the beads won't fall off.

Beginning with the smallest beads, start stringing them on the wire, using accents where desired and threading bigger beads as you work your way up.

Once you're happy with your icicle, make another loop (this time, a little bigger) at the top and snip off any excess wire.

Cut a piece of ribbon that's about 3-4 inches long and thread it through the loop at the top of the icicle. Tie the ends in a secure knot and use a lighter to singe the ends so they don't fray.
These icicle ornaments are a whole lot of fun to make, but they are also sure to warm the hearts of anyone you give them to. After all, who doesn't love a Christmas present that will brighten your tree for years to come?
Cute Clothespin Reindeer
I'm a sucker for cute ornaments, and these clothespin reindeer are the most adorable ones I've seen! They look absolutely darling hanging on the tree or even displayed on your fireplace mantel. I like to make a set of eight for each of Santa's reindeer, with a red nose on one for Rudolph.
What you'll need:
Flat wooden clothespins (the ones without the metal pieces)—you'll need 3 for each reindeer

A hot glue gun

Mini googly eyes

Small sequins or buttons (for the noses)

Small to medium white pompoms (for the tails)

Small bells (optional)

Black craft paint

A small paint brush

Baker's twine or ribbon for hanging
What you'll do:
Create the reindeer body by gluing together two clothespins, one on top of the other, going in the same direction.

Create the head by gluing another clothespin to one end facing upside down.

Once the body is secure, glue the sequin or button nose at the bottom end of the head and the googly eyes in the center. Glue the small bell just under the face of the reindeer (on the second clothespin) and the pompom tail on the back of the reindeer body.

Use the black paint and paintbrush to paint the hooves of the reindeer.

Cut a 4-inch piece of baker's twine or ribbon and tie it in a loop. Use the hot glue gun to fasten the knot to the back of the reindeer's head. Don't be afraid to use a lot of glue here! You don't want the ribbon to come off!
Whether you give your reindeer to a loved one or use them to trim your own tree, these adorable little ornaments are sure to spread some holiday cheer!
Pretty Packaging for Make-Your-Own Christmas Ornament Projects
Don't forget to find some fun Christmas tins or boxes to wrap these oh-so-cute ornaments in if you are gifting them. I like to line the packages with tiny little cotton balls (they look like mini snowballs!) or festive tissue so they don't get damaged on their way to your giftee.
These homemade Christmas ornaments would also be perfect for a Secret Santa gift exchange if you are on a budget and want to show off your crafty side! Or, why not throw a festive Christmas ornament gift exchange party where everyone has to make and gift their own ornaments? Oh, what fun it would be to see what everyone crafted! Just make sure you keep things organized with an online Secret Santa generator to randomly assign gifters and giftees. You don't want anyone fighting over your cute clothespin reindeer or your beautiful beaded icicles!
These easy Christmas ornament projects are great for big and little elves of any age to make. And whether you decide to keep or gift these precious Christmas ornaments, you'll most certainly have a lot of festive fun making them. Just crank up the Christmas tunes, make yourself a nice cup of hot cocoa, and get crafting!
Check out our gift guides for more fun gift ideas, or start an online gift exchange with Elfster to have a blast with your loved ones this holiday season. Share your favorite party stories with Elfster on Facebook, on Twitter @Elfster, or on Instagram @Elfstergram.
Courtney has a B.A. in English Literature and a Diploma in Culinary Arts and Pastry Arts/Breadmaking. Holistic health and nutrition are her passions, natural and organic are her two favorite words, and farmers markets make her heart sing. She lives in beautiful Vancouver, BC with her husband where they hike, bike, and hit the beach—but jump at any chance to travel and explore the food and culture of other countries as well! When it comes to gift giving, she likes getting creative in the kitchen and baking yummy treats or going all out by cooking a fancy meal.
Latest posts by Courtney S (see all)
Please follow and like us: