Gratitude-Inspired Thanksgiving Activities for Families
Gratitude-Inspired Thanksgiving Activities for Families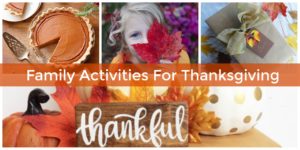 "Gratitude unlocks the fullness of life. It turns what we have into enough, and more. It turns denial into acceptance, chaos to order, confusion to clarity. It can turn a meal into a feast, a house into a home, a stranger into a friend."  —Melody Beattie
The house smells of turkey and sage as my family eagerly gathers around the table. Like every year before, we join hands and take turns sharing what we are grateful for before tucking into the meal. A feeling of warmth spreads around the circle and just like that, we are full. True, our tummies are still grumbling in anticipation of the Thanksgiving day feast, but what we have in this moment is enough.
Thanksgiving has always been one of my favorite holidays. For a long time, I thought it was because I had a particular affinity for turkey and stuffing, but I've come to realize it is actually because of my family's wonderful tradition of expressing our gratitude aloud. It makes me feel so present and full of life. Every year, I'm amazed what a little bit of gratitude can do for the spirit.
Now that there are little ones in my family, I've taken it upon myself to spice up our pre-dinner gratitude circle tradition. Over the years, I've discovered some fun, interactive, and engaging gratitude games that my whole family, both young and old, enjoy. So, if you're looking to have a little festive fun before the feast, here are my favorite gratitude-inspired Thanksgiving activities for families who want to fill themselves up with more than just turkey this year.
Gratitude Scavenger Hunt
There's nothing like a little fresh air and movement to work up an appetite for a big Thanksgiving day feast!
A few days before Thanksgiving, type up a list entitled "I found something I'm grateful for…" Below the heading, list items for your family members to find. Get creative and add things like "this is in the backyard" or "this is bright blue." Be sure to leave space for everyone to write what they found next to each item on the list. You can even find a pre-made list online if you don't want to make your own.
Once you've made copies for everyone, hand them out and set a timer for the task that gives everyone enough time to finish (about 45 minutes, depending on the length of the list). Let out your best turkey call when the time is up and have everyone gather in a circle to share what they found. Everyone will have so much fun reading their lists! Plus, it will make everyone aware of all the little things they normally take for granted.
The Thanksgiving Tree Centerpiece
This is an engaging and interactive Thanksgiving activity that connects the entire family and warms everyone's hearts. It takes the classic gratitude sharing circle to the next level by having everyone write what they are thankful for on a paper leaf cut-out and then using these responses to make a beautiful tree!
Since there is a bit of crafting involved in this one, make sure you get started a few days before your Thanksgiving gathering so you have everything in place for the big day.
Here are the steps involved in making a beautiful Thanksgiving tree centerpiece:
Find a leaf shaped template online (about 2-3 inches in length) and print it out. Use it as a stencil to trace onto red, yellow, and orange construction paper. Cut out enough leaves so each member of the family has at least one.

Punch a hole at one end of the leaf and tie a string through it to create a loop.

Gather a bunch of thin branches from outside and arrange them in a vase. Place it in the center of the table.

Write each guest's name on one side of each leaf. On the day of the feast, set one at each plate as cute place settings.

Before dinner, have everyone write one thing they are thankful for on the back of their leaf (help the little ones write theirs if need be). When everyone is finished, go around the table and have everyone share what is on their leaf. As they do, they can hang their leaf on one of the branches in the center of the table.
When everyone has had a turn, encourage your guests to take a moment to admire the beauty of the Thanksgiving tree and reflect on how much there is to be grateful for. Not only is this a great way to start the Thanksgiving meal, you'll have a colorful, autumnal centerpiece!
The Gift of Giving Thanksgiving Gift Exchange
Of course, one of the most fun ways to express gratitude is by giving gifts! Having a Thanksgiving-inspired family gift exchange is a festive way to kick off the holiday season while showing your family members how thankful you are for them. Who says you have to wait until Christmas to give gifts?
My favorite thing to do for a Thanksgiving gift exchange is to set a fun theme—such as handmade gifts, fall favorites (think gourmet hot chocolate mixes and spice-scented candles), or pumpkin extreme. Once you've selected your theme, use an online Secret Santa Generator to determine who each person is giving a gift to. You can even use it to send invites, set spending limits, and communicate other details.
To make sure everyone gets something they truly want, have each person make a wishlist for their Secret Santa. Each person can write a heartfelt card to go along with their gift stating all the reasons they are grateful for their giftee.
After the Thanksgiving day feast and before the pumpkin pie, place all the gifts in one room in the house and let the unwrapping begin. The fun part is guessing who your secret Santa is! Of course, to complete the circle of giving thanks, remind everyone to send thank you notes for the gifts.
Thanksgiving Activities for Families to Cultivate Gratitude
Thanksgiving is a wonderful time to give thanks for all the good things we have in our lives. So often we rush through our days, never really pausing to appreciate all we have. While Thanksgiving does provide us with a much-needed pause, it's all too easy to get caught up in the cooking and forget to take time to count our blessings.
No matter which gratitude-inspired Thanksgiving activity you choose, the simple act of consciously giving thanks will undoubtedly enhance your enjoyment of this special holiday. And I hope it will inspire you to continually look for ways to express your gratitude and experience the fullness of life—all year long.
For more fantastic festive ideas for all occasions, check out our Elfster Blog or start an online gift exchange for a fun gift-giving game to play on any holiday. You can also connect with Elfster on Facebook, on Twitter @Elfster, or on Instagram @Elfster.
Courtney has a B.A. in English Literature and a Diploma in Culinary Arts and Pastry Arts/Breadmaking. Holistic health and nutrition are her passions, natural and organic are her two favorite words, and farmers markets make her heart sing. She lives in beautiful Vancouver, BC with her husband where they hike, bike, and hit the beach—but jump at any chance to travel and explore the food and culture of other countries as well! When it comes to gift giving, she likes getting creative in the kitchen and baking yummy treats or going all out by cooking a fancy meal.
Latest posts by Courtney S (see all)
Please follow and like us: