DIY Fall Wedding Centerpieces on a Budget
DIY Fall Wedding Centerpieces on a Budget
The aisle of the church was covered with fall leaves, pumpkins were at the altar. But this wasn't some rustic, abandoned chapel in a field somewhere—it was the location of my wedding. We had done everything we could to bring nature's autumn artwork inside: the flower girl tossed maple leaves instead of flower petals and my bouquet was filled with deeply colored dried flowers and radiant sheafs of golden wheat.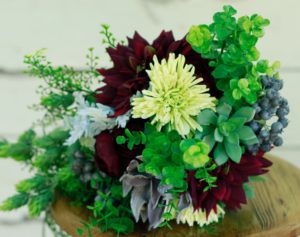 Fall is my favorite season so it made sense for my husband and me to embrace it fully in our wedding decor, right down to the warm apple cider we served at our reception and the miniature gourd boutonniere's worn by the groomsmen. But I think what people liked most were the guest gifts—homemade pumpkin fritters to enjoy the next morning tucked into little cardboard boxes and tied up with flannel ribbon.
I heard so many of my guests say how much they appreciated getting a parting gift that was made with love, and even though it wasn't something they could bring back to their houses and put on a shelf, the memory of biting into the cinnamon-spiced treats in the brisk evening following the reception, with the autumn stars twinkling brightly in the sky above and leaves swirling in the breeze, was priceless—and I even managed to eat one without getting too many crumbs on my gown!
Thank your friends and family for helping to celebrate your journey together by sending them home with a gift that can double as a floral centerpiece, one that will remind them of the ebb and flow of the seasons in all of our relationships (you can DIY wedding favors for summer weddings, too). While it sits on their table at your reception, it will serve as a reminder of your love and appreciation for their presence in your life; when they leave, they'll be taking home a little part of that feeling, captured in your handmade present. With a little DIY magic, you'll be able to show them that you appreciate their celebration of the start of your new marriage, and the work you put into each gift will give your "thank you" a personal touch. Here are my favorite ideas for DIY fall wedding centerpieces on a budget.
DIY Succulent and Gourd Fall Wedding Centerpieces for Any Budget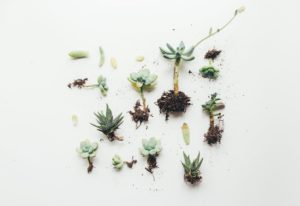 It was 94 degrees on the blacktop and I was lugging a down jacket, rain boots, and a wedding dress toward the entrance of the airport. It may have been hot and sunny in southern California, but I was headed to my wedding in Maine and knew I'd need to be prepared.
Even though I grew up in New England, I've definitely absorbed some SoCal aesthetics and I wanted that reflected in my wedding decor. One idea I loved? Combining desert succulents in cool tones of blue green, reddish orange, and purple with classically autumnal flora like corn husks, miniature gourds, and pine cones. It made for some striking decor, filled with contrast and unexpected parallels; you'd be surprised at how many succulents look right at home next to a spiky pinecone.
You too can incorporate some of this desert flair into your fall wedding, adding modern intrigue to your centerpieces so the autumnal decor doesn't seem too kitschy (leave the scarecrows in the field). When your guests leave, they can take a piece of your living centerpiece with them so it can flourish at their home and remind them of the fun time they had celebrating your union.
Recommended supplies:
Miniature gourds

, natural and painted

Dried pine cones, foraged or purchased

Dried autumn leaves (collecting them is a fun activity for the wedding party)

Small containers to make your arrangements in (these

rustic tin pails

are cute)

Dried floral moss for filler
For my wedding, I enlisted my bridesmaids to help assemble the centerpieces (luckily I had some previous experience making DIY fresh flower arrangements for my mom). I made a sample centerpiece for everyone to use as an example, then we gathered our supplies and containers. We crafted our arrangements while listening to music and chatting; it was a nice moment to bond and have a little fun with just my friends.
When you have a DIY wedding, so much of it is about your family and loved ones coming together to share in creating a celebration that's almost as much about them as it is about you and your partner. These homemade centerpieces will be a reminder of the closeness shared by family and friends.
Warm Guests Up With Mason Jar Centerpieces Full of Mulling Spices
The walk from the church to the reception was a chilly one. The wind was whipping my veil around and I had goosebumps, both from the excitement of finally saying, "I do," as well as the brisk air outside. When we made it to the reception, my new husband and I were greeted with a pleasant surprise. Instead of a glass of champagne, we were handed warm mugs of mulled apple cider. It immediately made us feel comfy and cozy, sheltered from the cool air outside and surrounded by the warmth of our loved ones.
Capture that feeling for your guests to take home by filling decorative jars with a blend of mulling spices, then placing them in a ring or row on your table along with some ripe autumn apples and pine cones. You can buy a premade mulling mix or make your own. If you're making your own, here's a blend I'm fond of. Each jar will flavor a half gallon of apple cider.
Mulling Spice Mix
2 cinnamon sticks

1 laurel bay leaf

5 cloves

2 star anise

½ tsp nutmeg

3 strips dried orange zest

1 small piece of dried ginger
Fill your jars, then tie them with decorative ribbon—flannel, lace, or burlap looks nice here. Tuck a cinnamon stick in the ribbon so that while the jars sit on the table, the fragrance of the spice will fill the air. When your guests get home, they can brew up a batch of cider, each sip bringing back memories from your celebration.
A Budget-Friendly Handmade Cupcake Pedestal as a Fall Wedding Centerpiece
We had three vegan and five gluten-free guests, and one with a nut allergy, which all added up to a whole lot of stress about our wedding cake. The simple solution? Instead of a traditional layer cake, we served individual cupcakes. My aunt made one cake for us to cut during the reception and the caterers made cupcakes for our guests. The staff at the restaurant where we held our reception kept the cupcakes for special diets separate from the rest, then delivered those individually when everyone else was served. It was a lot easier than having several different large cakes for each dietary need.
The cupcakes were so gorgeous, decorated with fondant leaves and a spray of edible gold glitter, that I almost wished they had been on display. And, in fact, cupcakes can make for a great display. Instead of using them to decorate the dining tables where your guests are seated, consider displaying your cupcakes on a banquet table, surrounded by flowers and served on individual cake pedestals.
It's surprisingly easy to make your own rustic cupcake pedestals for a fall wedding centerpiece on a budget and your guests can then take them home as a souvenir to be used as a candle holder, knick knack display, or a platform for a bud vase.
DIY Rustic Cupcake Pedestals
Supplies:
2-inch lengths of branch, about 1.5 inches in diameter, for the base

Round wood slabs, about 3 inches in diameter and ½ inch thick, for the platform
How-To:
Using wood glue or a small nail, attach the wood slab platforms to the bases so that they look like little tables.

If using wood glue, let dry completely.

That's it! Since your cupcakes will be in a liner, you don't need to worry about finishing the wood.
Place the cupcake pedestals on your dessert table, arranging them as you like before placing the cupcakes on top. Set up a smaller table nearby with an autumn-scented tea light candle for each guest to bring home. The rustic wooden pedestals look elegant in the soft glow of candlelight, and will bring a touch of the autumn elegance of your wedding into your guests' homes.
Coats on, fritters in hand, arms linked against the brisk autumn wind outside, our guests said goodbye. Even though the leaves were falling from the trees and the air was chilly, I felt warm from the inside out.
Instead of the autumnal barn raising or corn husking parties of old, my friends and family had come together to celebrate my wedding. With their help, we DIY'ed our way through the decorations and desserts and, in the end, we all got to bring something sweet home. For my husband and I, it was our memories of a perfect night; for our guests, it was homemade pumpkin fritters (and hopefully some memories, too).
Still not sure what to get your wedding guests? Our elven event planners extraordinaire can help. Check out our Sweet Treats Gift Guide for some edible inspiration. You can keep up with elves on our Facebook page, and don't forget to share your ideas with us on Twitter @elfster and Instagram @elfstergram.
If you want more ideas on orchestrating your wedding gift-giving, register on Elfster. Set up a gift exchange for your bachelor party or your bridesmaids, create wish lists of gifts you love, and stay in touch with your friends leading up to your big day.

Justina H. loves creating things, whether it's sewing a dinosaur-themed quilt for a friend's baby or whipping up a healthy meal using seasonal ingredients. Her favorite gifts are always homemade, and her overly-stuffed craft closet and fabric collection are always threatening to take over her apartment. Her favorite Elfster feature is the
secret santa app
. When Justina's not busy planning her next quilt, chances are she's writing the day away, Facetiming her niece, or engaging in a battle of wills with her temperamental cat. Hit her up for creative ways to bring a DIY flair to all of your fabulous gifts and parties!

Latest posts by Justina H (see all)
Please follow and like us: