The Best Summer Birthday Party Ideas for Toddlers
The Best Summer Birthday Party Ideas for Toddlers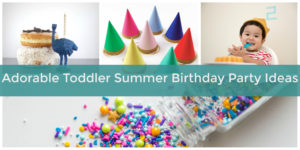 As someone who was born in July, I can say with confidence that summer birthdays are the best—especially when you're a kid.
When I was little, my parents threw the best parties for me; looking back they were quite simple, but I loved them. Every year my friends would come over in the mid-morning and we'd frolick in the grass as the skirts of our party dresses whooshed in the warm breeze. At lunchtime, we'd all gather around the picnic table in the yard for a birthday barbecue complete with burgers, hot dogs, and crinkle cut chips. Afterward, we'd hit the beach just steps from my front yard and build sand castles, hunt for pretty rocks, or splash in the lake for hours.
In the spirit of making special birthday memories, like the ones that are still so near and dear to my own grown-up heart, throw your summer baby a celebration they won't forget. Here are a few of the best summer birthday party ideas for toddlers that are sure to be a big hit with the little ones.
Toddler Summer Birthday Party Theme Ideas
I never had a themed birthday party, but my childhood friend Leanne always did—and I loved them! Choosing a theme is a great idea; it can help you to focus your vision for the party if you don't know where to start. Once you have a theme, everything else tends to come together—the activities, the food, the decor, and even the favors. Here are a few hot summer birthday theme ideas that little ones will go nuts for.
Summer Safari
Round up your little explorers and start the special day with a trip to your local zoo or petting farm. Hand out toy binoculars and safari hats so the kids feel like real explorers. Stop for an animal cracker snack midway, then head home at noon pre-nap for a safari lunch. Little ones can munch on animal-shaped sandwiches and a lion face veggie and hummus tray. Safari-inspired cake toppers are also a must!
For a fun afternoon activity, set up a face painting station in your backyard and turn the little ones into little animals!
Moana Tropical Luau
Is there a better birthday theme than one that honors the hottest Disney movie of the year? Blast the movie soundtrack and hand out leis (which double as a party favor) so the kids can get their dance on.
Set up a temporary tattoo table where kids can decorate themselves, and create a rock painting station for them to make their own hearts of Te Fiti. Toddlers will love splashing in the enchanted ocean—aka a kiddie pool and sprinklers!
Decorate your yard with real coconuts, pineapples, and colorful tassels. For the cake, go bold and colorful with big flowers and greenery.
Summer Garden Party
I've yet to meet a kid that doesn't like diggin' in the dirt. Give each little one their own plant pot to paint when they arrive. While they dry, it's time to get the kids wet with some garden hose limbo—it's like regular limbo, but the stream of water is the bar that kids have to pass under!
When the pots are dry, fill them with soil, pass out kid-friendly garden tools, and teach the tots how to plant seeds. Everyone gets to take home their own plant as a party favor so they can water it and help it grow.
Swap out birthday cake for old fashioned worms 'n dirt pudding cups filled with chocolate pudding, Oreo cookie crumbs, and gummy worms.
Toddler-Friendly Activities for the Best Summer Birthday Bash
While having a theme can be loads of fun, it isn't the only way to throw a stellar shindig (as my parents proved). Instead, you can plan your party around fun outdoor summer activities that all kids will love while keeping things a little more low-key.
Here are some stand-alone activity ideas to make your little one's birthday extra special:
A sand castle extravaganza:

Head to the beach or to your nearest neighborhood sandbox and bring a bunch of buckets and shovels. Let the little ones dig, build, and create for as long as they're happy.

Nature treasure hunt:

Nature-obsessed kids

will love this one. Hit up your nearest park (or do it in your own backyard) and hide items for the kids to find (painted stones, feathers, plastic bugs). Give them each a simple "treasure map" with pictures of items for them to find and little bags to collect their treasures. 

Finger painting:

Lay a big sheet of paper or cardboard out on the lawn and set out non-toxic, washable paints. Encourage kids to dip their hands in and get messy while they create their masterpieces.

Once everyone has finished their art, set up the sprinkler for a fun way to wash off the paint!

A sprinkle of fun | Image courtesy Etsy seller DaintySprinkleCo

Parachute games:

Rent a parachute from your local party rental store (or

make your own

) and guide the little ones through fun games. The adults can lift it in the air and the kids can scurry underneath like little mice, or you can place some balls on the 'chute and have everyone shake it while trying to keep them from flying off.

Ice cream bar:

Set up a table full of fun ice cream toppings, like crushed cookies, berries, and sprinkles, and have the little ones make their own sundaes! You scoop, they garnish. It's always fun to see who makes the wackiest combination.
Of course, these activity ideas can be tweaked and personalized depending on the birthday boy or girl's interests and preferences. Just let your imagination be your guide and the kids will be sure to love whatever creative activities you dream up!
Simple, Fun Gifting Ideas for Toddler Summer Birthday Parties
Don't be afraid to get creative when it comes to the gift-giving part of the party too! Birthday gifts can get a little out of hand, and you can end up with more toys than you or your little one knows what to do with. To avoid this, consider setting up an online wish list. Not only will this take the guesswork out of gifting for your guests, it will ensure that your little one only gets what he or she really wants or needs.
Another super fun way to keep excessive gifts at bay is to have a gift exchange for all of the little guests who have summer birthdays. You could even have a joint party for all the summer kidlets. Using an online gift exchange program will allow you to make wish lists, coordinate with other parents, and assign gifters and giftees. Your kids will love it!
No matter how you end up celebrating your toddler's birthday this summer, the most important thing is that they feel special at the end of the day. Our little ones grow up so quickly, so it's important to give them many happy birthday memories to warm their hearts on their big day—and for many years to come.
Create special summer birthday memories with a little inspiration from Elfster! To create your own online gift exchange, simply sign up for free today, then check out our Gift Guides to make birthday parties a breeze.
Do you have any fun summer birthday ideas for toddlers and kids? Tell us about them on our Facebook page, on Twitter @Elfster, or on Instagram @Elfstergram.
Courtney has a B.A. in English Literature and a Diploma in Culinary Arts and Pastry Arts/Breadmaking. Holistic health and nutrition are her passions, natural and organic are her two favorite words, and farmers markets make her heart sing. She lives in beautiful Vancouver, BC with her husband where they hike, bike, and hit the beach—but jump at any chance to travel and explore the food and culture of other countries as well! When it comes to gift giving, she likes getting creative in the kitchen and baking yummy treats or going all out by cooking a fancy meal.
Latest posts by Courtney S (see all)
Please follow and like us: