How to Keep in Touch With Friends Over the Summer Vacation
How to Keep in Touch With Friends Over the Summer Vacation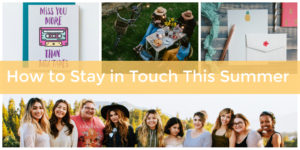 Growing up in a touristy vacation spot, my summer friends were a totally different group than my winter friends. Summer Nina (not to be confused with year-round Nina), Meghan O., and other kids would suddenly move into the neighborhood temporarily, becoming much easier friends to get together with than the ones from school who didn't live a literal hop, skip, and jump from my front door.
But when school started up again, I would inevitably be shocked to learn that while I was busy hunting for salamanders and raking clams with the summer kids, the rest of my friends had continued to—gasp—keep hanging out with each other. They came back to school with shared adventures, always leaving me feeling just a little left out.
It's important that kids (and adults!) stay in touch with their friends through the warmer months. Even though everyone is busy enjoying all that the season has to offer, there are still ways you can keep in touch with your closest pals, sustaining your old memories even if you can't be together to create new ones. From those who spend the season far away to those who remain local, with a little effort, you can keep your friendships going as strong as the summer sunlight until fall comes back around. Here are my favorite ideas for how to stay in touch with friends over the summer vacation.
Start a Summer Letter Writing Chain to Stay in Touch With Friends
Jenny was in Sweden, Andrea was in the UK, Nicole was in Florida, and I was in New England. It was the first summer after college and, other than myself, none of my BFFs had returned home. I'd been looking forward to our reunion in our small hometown but, instead, we ended up keeping in touch in a different way—with a traveling packet of letters and cards that we sent back and forth all summer. We decided to create a letter chain; I would write the first letter, then send it to Jenny who would add her own and send it to Andrea, who would make a contribution to the packet before sending it to Nicole, who would enclose a letter and send it back to me. Then we'd start the circle over again.
Jenny sent us Swedish greeting cards, Andrea sent bags of tea from England, and Nicole painted a small postcard with a picture of the smooth, sandy beach she lifeguarded every day. It was better than just getting letters in the mail because each time one of us received the letter packet, there was a different surprise inside.
Even though we spent the whole summer apart, when we briefly saw each other again at the end of the season it felt like we had never been separated. We were able to spend less time talking about the details of everyone's summer so we could jump right back into the heart of our friendship. It was so successful that we kept the packet going throughout the rest of our college careers. In fact, the last time we were all home for the holidays, we all looked through our library of letters.
To make your own traveling letter packet, you'll only need a few supplies. Pick up postcards and stationery from places you visit over the summer to write your letters on, and you can include stickers, patches, pins, pressed flowers—basically anything that isn't too heavy for low postage costs—in the packet as well. Consider printing out some pictures of your summer adventures from your social media accounts, too. Every time you or your friends open the package, it will be filled with stories, bits, and baubles from their loved ones, even if they're far away.
An Open Invitation to Stay in Touch This Summer
I hadn't seen him in months, and I was going crazy. I've known my BFF Dave since he was my husband's roommate in college. He even officiated our wedding! But between his busy work life as a film composer, my writing, our family responsibilities, and all the other stuff that life had thrown our way, it had been months since we hung out—and he lived just 10 minutes away. Once we realized we had been neglecting our friendship, we went on an epically long coffee date to catch up on all that had been going on and to make a plan so that we never had to go so long without seeing each other again.
Now, we have a system in place: Every second Friday of the month, I host a dinner at my house for all of our friends, and every last Friday of the month, he holds the dinner at his place. These standing invites, with their open guest list, make it easy for us to drop in on each other without having to coordinate our schedules.
This summer, stay in touch with your friends by setting up a weekly or bi-weekly get-together. It can be a picnic, a morning jog, an ice cream social, a coffee date, or a dinner; just choose something simple that people can attend without expending too much effort. The idea is to make it as easy as possible to see your best friends on a regular basis so you don't look up one day in the fall and realize you have no idea what your friends have been doing for the past few months. Tell your group of besties the time and the place, and they can drop in if they're free, no RSVP required. The low-pressure nature of the event is a surprisingly effective way to get even reluctant socializers out of their shell.
Share Playlists to Keep in Touch With Friends This Summer
If I made a music playlist that contained the songs Paradise by the Dashboard Light by Meatloaf, Harness Your Hopes by Pavement, and Alexander Hamilton from the Broadway musical, there are only two people I can think of who would actually listen to it—my two best friends. That's the beauty of sharing music playlists with your closest pals, each one is like a totally customized message saying, "I get you!"
Even if you're apart from your friends this summer, you can stay in touch by sharing the music you all love. Choose an online streaming service that allows you to create and share playlists (like Spotify, Apple Music, or 8tracks) then make a few different playlists to share with your friends. I like creating a "New Music" playlist that everyone in your group can add to so you can experience new songs together, along with a few general playlists—think one for parties, one for the beach, and one for rainy summer days when you're stuck inside.
When you're reunited in the fall, you'll all be nodding your heads to the beat as though you've been listening to tunes together all summer long. It's a great conversation starter, too. While listening to the music you've all come to love, it'll remind you of things that happened over the summer that you've been dying to share with your friends, helping you to bond even more after being apart.
Stay in Touch With Friends Using a Summer Online Gift Exchange
A jar of seashells, a tin of saltwater taffy, a carved wooden spoon: I always make time to pick up some small souvenirs during my summer travels, either to proudly display on my ever-growing keepsake shelf or to gift to friends. But more exciting than doing the shopping while you travel is finally giving the souvenirs to your friends and loved ones. Think of each souvenir as a token letting them know that you were thinking of them while you were away, whether it's a beach-themed gift bag or a thoughtful DIY gift for your best friend that you made during a relaxing week-long vacation.  
This summer, especially if any of your friends are traveling, keep in touch by setting up a gift exchange on an online site. You can create your gift exchange group at the beginning of the season, then use it all summer long to create wishlists, follow each others' summer adventures through the activity updates in your exchange feed, and chat via the group discussions function. Then, at the end of the summer, have a party where you meet up and exchange your secret gifts. It's a fun way to reconnect with friends you've been chatting with and all the suspense leading up to the gift exchange is like getting a little taste of Christmas in July.
When the sun's out and warm weather is here, it's hard to pay attention to anything other than planning trips to the beach, sipping ice cold lemonade on the porch, and finally planting some new flowers in your garden. But with just a little effort, you can make sure you don't lose track of your friends.
Whether you're corresponding with friends who are traveling, anonymously exchanging presents, or blasting out a Broadway Hits/Hip Hop playlist created by your bestie, you won't be alone this summer. And when the long summer days start to shorten and the weather gets cooler, you'll still have a close-knit group of pals to keep you warm.
Need more summer gift-giving inspiration? Our Elves are busy even in the summer! Check out our Beach Getaway Gift Guide. You can also share your summer plans and gift ideas on our Facebook page, on Twitter @Elfster, or on Instagram @Elfstergram. Or, learn how to start a Secret Santa gift exchange the quick and easy way!

Justina H. loves creating things, whether it's sewing a dinosaur-themed quilt for a friend's baby or whipping up a healthy meal using seasonal ingredients. Her favorite gifts are always homemade, and her overly-stuffed craft closet and fabric collection are always threatening to take over her apartment. Her favorite Elfster feature is the
secret santa app
. When Justina's not busy planning her next quilt, chances are she's writing the day away, Facetiming her niece, or engaging in a battle of wills with her temperamental cat. Hit her up for creative ways to bring a DIY flair to all of your fabulous gifts and parties!

Latest posts by Justina H (see all)
Please follow and like us: