How to Plan a Neighborhood Block Party This Summer
How to Plan a Neighborhood Block Party This Summer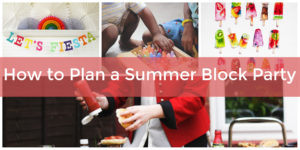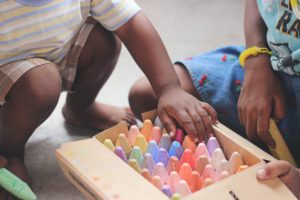 When I was growing up, we'd pack into my mom's car and venture from our home in the countryside exactly one hour north to my auntie's house in the suburbs. We'd arrive at her cul-de-sac in the warmth of a late summer afternoon, kids outdoors playing basketball or hockey and the sounds of laughter floating out from backyard swimming pools. More often than not, the sweet smell of barbecued burgers and hot dogs was also permeating the air.
A few times a year, my auntie's neighborhood would come together to host a big block party. Between the invites, the group games, the street decor, and the food, I always thought there was something truly magical about those gatherings. So, thanks to some childhood inspiration from my aunt and her neighbors, here are some of my favorite ideas for how to plan a sun-sational neighborhood block party this summer—complete with bacon potato salad.
Step #1: Creative Invites for Your Summer Neighborhood Block Party
I've always been a fan of elaborate homemade invites. I can still recall getting a glitter-dusted mermaid invite to a friend's 7th birthday and how excited I was as the actual event approached.
At first, inviting neighbors to their own neighborhood block party might seem a bit silly. But, someone has to do the organizing, and starting the fun off with a creative invite will get folks eager and excited to participate. This summer, ditch the traditional envelope and card invites and go for one of these unique variations when planning your block party.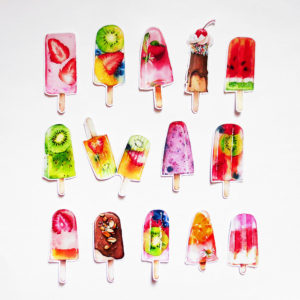 Door Knob Invites
Custom door knob invites are sure to be noticed as they'll be the first thing to greet your neighbors when they arrive home. Keep it super simple with a phrase like, "You're invited to our annual neighborhood block party!" Just be sure to include the date, time, and food and game details. Include an icon of a barbecue or a picnic spread if you want to get fancy!
Popsicle Invites
A forever-festive way to invite folks to a summer soireé is by jazzing up your invites with a theme—like popsicles! To create popsicle invites, simply cut bright card stock in the shape of a popsicle (or, basically, an elongated "U"), write out the event info on the front of the popsicle, then glue a popsicle or craft stick to the back.
Sidewalk Chalk Invites
The easiest way to get the whole neighborhood's attention is to make like a 5-year-old Banksy and get to work laying out the party details, in large print, right there on your street's sidewalks for all to see!
Step #2: Plan Neighborhood Block Party Games
When I was a kid, our driveway was roughly 1/4 mile long, and it wasn't too often that we got folks making the trek up it unless it was pre-planned. When we'd venture to my aunt's, though, whether for Christmas, a 4th of July get-together, or block parties, her lawn was front and center for all to see.
Block parties are simply made for group games and contests that will get everyone mingling. Here are a couple ideas to jumpstart your imagination:
A Front Yard Decorating Contest
What better way to celebrate summer than by replicating the sandy feel of a pristine beach on your own lawn?
The idea is simple: decorate your front lawn to resemble a tropical beach paradise. Ask all the neighbors who want to participate to chip in $5 for a prize. Then, on the day of the block party, everyone gets to vote on who the beachiest neighbor is. The winner gets a beach-related prize, like a one-night stay at a nearby coastal hotel or new matching bathing suits for the family, depending on how much prize money you collected.
A Giant Lawn Tic-Tac-Toe DIY
Sometimes, on those long and meandering days of summertime, nothing can beat a giant game of tic-tac-toe out in the sun. It's relaxing and entertaining, not requiring too much energy when you just want to take it easy. The best part about the lawn version of this game? You can create the board and playing pieces with anything you have on hand. My brother and I used to make our grid out of rope and use beach balls and hockey sticks as our X's and O's.
For giant lawn tic-tac-toe, you can also spray paint your grid onto the grass, use yarn, or even pool noodles! For the X's and O's, try cutting them out from big pieces of cardboard. If your neighborhood is green and tree-filled, you can collect sticks and rocks as your playing pieces.
Step #3: How to Decorate for Your Neighborhood Block Party
Street decor lets the world know you and your neighbors are ready to party! For a simple idea with a big impact, pick an original block party name that you can print on a banner, like The Birch Street Annual Bash or The Party-Til-You-Drop on Pear Avenue. Hang the banner from two tall ladders or trees and surround it with big bunches of helium balloons to make a statement.
The best part is, this setup can also double as a spot for family portraits. Ask around to see who has a camera and set it up with a self-timer on a tripod. Or, if someone in the group is a self-proclaimed photographer, have them run the "photo booth" station complete with props and inspirational poses.
Step #4: How to Feed the Masses at Your Neighborhood Block Party
One of my favorite aspects of block parties is that they offer a chance for people who perhaps don't know each other all that well to come together—and nothing bonds like food at a neighborhood block party! The traditional staples for BBQ block party food are pretty simple, and there's really no need to complicate them—burgers and franks.
BYOC (Bring Your Own Condiments)
Encourage invitees to bring their own condiments as everyone tends to have their own family favorites. In my neighborhood, there is a long-standing debate over yellow or honey mustard! Guests can BYOC in empty cupcake tins, anything from ketchup and mayo to homemade dill pickles and chopped red onion.
The Main Dish
For the main dish, have a few neighbors volunteer to set up their BBQs on a couple adjoining driveways. Round up a handful of people who will be the chosen meat flippers for the evening and assign party-goers to bring one of the following: hot dogs, hamburgers, or buns. Don't forget about the vegetarians, though!
The Sides
One of the best parts of pot-luck style food is the sides; this seems to be where people really let their creativity unfold. If you're looking to stray from the traditional, make a note on the invites or spread by word of mouth that families should feel free to bring out their own unique variation of traditional sides to contribute to the meal. Some ideas include:
Jazzed Up Potato Salad:

This might include crushed potato chips, bacon, or hard boiled eggs.

Elevated Macaroni Salad:

This might call for green bell peppers or shredded cheddar cheese and diced ham.
Whatever guests contribute, whether through food, decor, or photo booth skills, block parties are an incredible opportunity to come together and build bonds within your neighborhood and community.
Maybe you're observing a summer event, like the 4th of July or a group of August birthdays, or maybe you're just looking for a way to enjoy one another's company. Whatever the reason, we hope these tidbits and ideas have given you some creative block party inspiration. From all of us at Elfster, may your day be filled with sunshine and lots of tasty treats.
For super summer inspiration, explore our Summer Fun Gift Guide. For more ways to connect with your neighbors and friends, you can read up on how to play Secret Santa and then invite everyone to start a new Secret Santa game—anytime of the year! And, connect with the elves on our Facebook page, on Twitter @Elfster, or Instagram @Elfstergram for daily gift and party inspirations.

Bay E. has her BA & MA in English and creative writing from San Francisco State University. She's passionate about poetry, cooking, photography, and exploring the great outdoors. When it comes to gift-giving, she loves creating homemade gifts with a natural and artistic flair, often food-related with some sort of quote or recipe attached.
Please follow and like us: