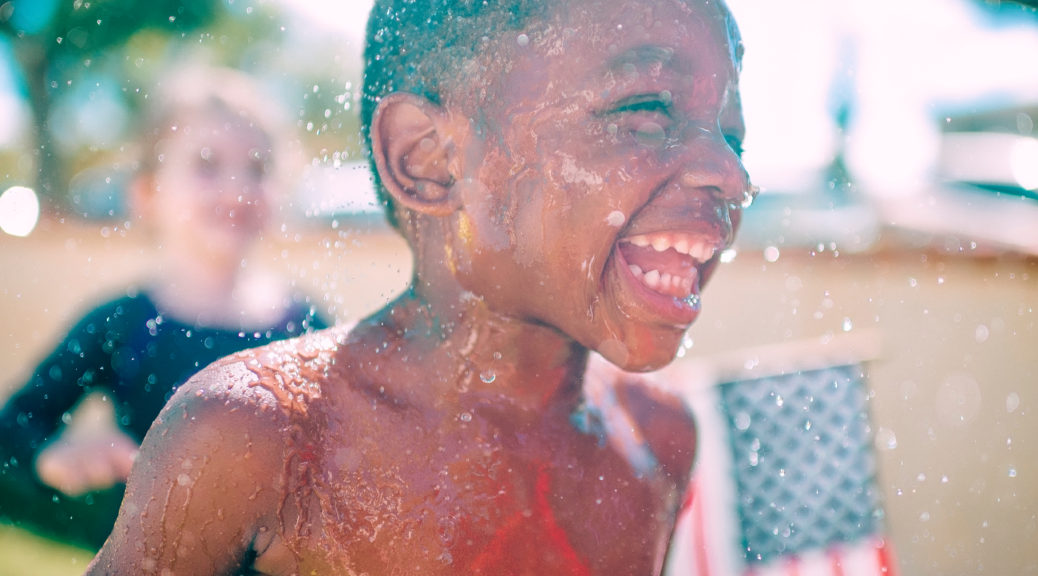 Patriotic Party Ideas for Your Memorial Day BBQs and Backyard Block Parties
Patriotic Party Ideas for Your Memorial Day BBQs and Backyard Block Parties
Memorial Day signifies the unofficial start of summer when light sweaters are replaced with swim suits and backpacks are replaced with beach bags. Growing up, this often meant holidays spent around a beach bonfire with roasted s'mores, grilled hot dogs, and homemade flag cakes. Some years, the holiday was spent at large backyard gatherings of close friends, with music, swimming, barbecues, and water balloon fights to fill the day.
However you celebrate this weekend, in honor of those who have sacrificed for us, it's a day of gratitude. We acknowledge what is most precious to us in life by spending time in the company of family and friends, usually outside with a backyard gathering or barbecue. Whether you're hosting a small intimate party this year, or a large one, here are four of our favorite activities to enjoy the day in a patriotic way.
Patriotic Words and Phrases for a Memorable Game of Charades
I love charades for its promise of deep belly laughs and getting to look ridiculous while acting out silly scenes with family and friends. I remember the first time I introduced the game to my niece. We were coming up with ways to stay entertained in an empty house that my parents were moving into and, with no board games yet unpacked, we made up our own charades game on index cards. From acting out dolphin dances to pretending to be a scuba diver in search of rare mermaids, the game we created was definitely one with our own unique spin to it.
For Memorial Day, you can put your own twist on this classic game by making it patriotic. Write down the names of famous American places, people, and objects on red, white, and blue notecards, then get all your friends and family together to take turns acting them out. In this version, you can even include props for an overall experience bound to give guests of all ages a good laugh. Here are my favorite cue cards but, as always, feel free to fine tune them and let your creative juices flow!
Famous American Places, People, and Objects Cue Cards
The Statue of Liberty

Firecrackers

George Washington

The Liberty Bell

The Constitution

Freedom

States

Baseball

Pie

July

Benjamin Franklin

Yankee Doodle

Thomas Jefferson

Hot dogs

Martin Luther King

Hamburgers

Ice cream

John Hancock

Barack Obama
A Build-Your-Own Hot Dog Bar
Hot dogs will forever remind me of long summer evenings spent at the beach in Southern California. There's something so quintessentially all-American about them—and the smell as they brown on a charcoal barbecue while you sip on something cool and refreshing. For a Memorial Day BBQ that sticks in your friends' memories, an epic build-your-own hot dog bar will help keep things simple for you and fun for your guests.
We all know the typical staples—ketchup, mustard, perhaps some pickle relish. But, add some unique toppings and your hot dogs will go from everyday to holiday party fare. You can even buy some flag toothpicks as the pièces de résistance of your hot dog decor.
The best part about this spread? You can arrange it all before the afternoon of your BBQ. Then, when it's time to cook, just leisurely turn the hot dogs on the grill while you stand back enjoying the company of your guests. Here's how I like to arrange my own hot dog bar masterpieces:
The Sauces:
Mustard—both Yellow Mustard

and

Honey

Ketchup

Garlic aioli

Chipotle sauce

Barbecue sauces in Smokey and Honey varieties
The Toppings:
Chopped sweet onions

Chopped bacon bits

Crushed potato chips

Crushed bbq chips

Baked beans

Chopped pickles or relish

Diced tomatoes

Grilled onions

Feta cheese

Cheddar cheese
The Buns:
Don't hold back when it comes to your buns. There's white, wheat, and even gluten free. Providing a variety of buns lets guests feel like they're getting a slightly fancier version of the typical hot dog spread and allows them to fine-tune their meal to their own tastes.
The Dogs:
As I do with the buns, I throw a variety of hot dogs on the barbecue, from beef franks to chicken sausages to turkey dogs—even a vegetarian option.
Flag-Raisingly Fun Cake Decorating Party Games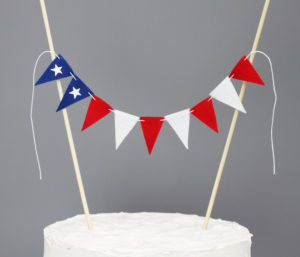 When I was a kid, my mom would often include cake decorating as an activity at our birthday parties rather than having the cake pre-made ahead of time. She'd put out sprinkles, different colored frostings, and toppings of all sorts. To this day, she is still the queen of uniquely whimsical birthday party ideas—and of the annual 4th of July flag cake, which is what inspired this next idea.
Cake decorating party games are a sweet option to while away an afternoon, especially when sprinkled with a small dose of competition to make things exciting. For this activity, you'll want to start by giving teams of two a small, pre-baked square cake and bowls of white frosting.
The point is for everyone to work together in teams to use red, white, and blue toppings to see who can come up with the most accurately patriotic American flag. Cakes can then be displayed a long table and a winning team selected by a panel of cake-judges. Whichever team wins can take home a prize, like a mason jar filled with red, white, and blue candies or a patriotic pint glass.
Flag-inspired Cake Toppings:
strawberries

blueberries

cherries

raspberries

yogurt covered pretzels

coconut shreds

red sprinkles

blue sprinkles

red licorice

mini marshmallows
Give your guests a time limit of a half hour and when the bell dings, time's up and voting begins. Extra points for accuracy—and deliciousness!
Water Balloon Dodgeball
When my brother and I were growing up, hot summer days often meant spending hours filling the huge sink in the laundry room with massive amounts of squishy water balloons. Then, we'd gather a few friends from the neighborhood, venture outside amongst the lemon and avocado trees, and let the water balloon dodge ball dance begin.
For this game, you might want to encourage guests to come in swimsuits or have a change of clothes on hand as they're bound to get soaked. Fill red, white, and blue water balloons and, to give the game a twist, hide a soft prize inside a few of them. Let the guests throw and dodge until all the balloons are gone and a winner prevails. Then, encourage everyone to search the lawn for the prizes. Whoever finds them gets to keep them, along with a gift card to a local movie theater to help beat the soon-to-be-summer heat.
Whether you're celebrating Memorial Day with a few close family members or hosting a block party for the entire neighborhood, we hope these ideas have given you some patriotic party-planning inspiration. From charades to dodgeball to a hot dog bar, enjoy spending the long afternoon in the sunshine with the company of those you love.
For more ideas on patriotic parties and gift giving, explore our Memorial Day Gift Guide or connect with us on our Facebook page, on Twitter @Elfster, or Instagram @Elfster.

Bay E. has her BA & MA in English and creative writing from San Francisco State University. She's passionate about poetry, cooking, photography, and exploring the great outdoors. When it comes to gift-giving, she loves creating homemade gifts with a natural and artistic flair, often food-related with some sort of quote or recipe attached.
Please follow and like us: