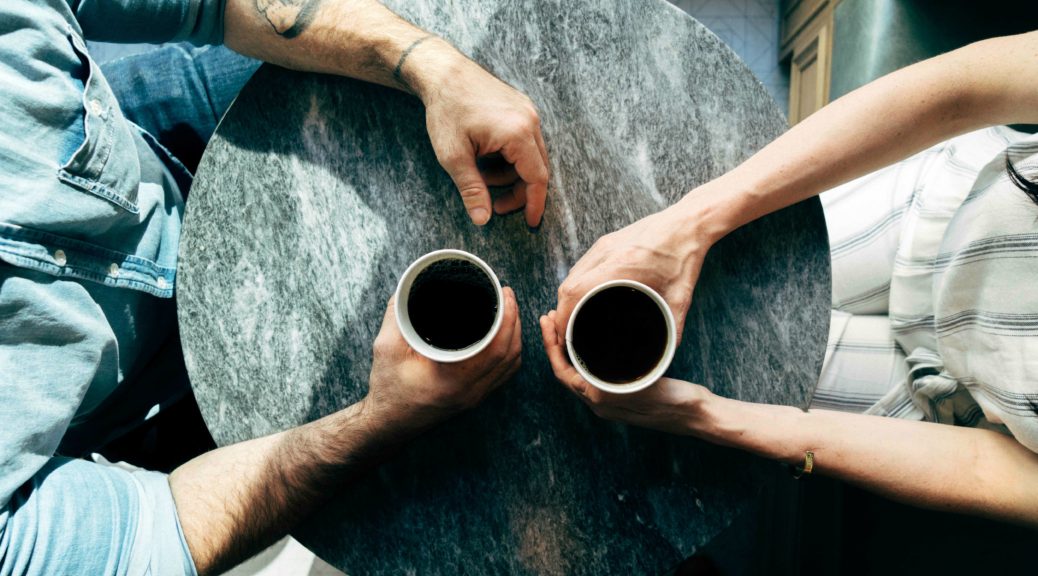 A Friends-Themed Party and Coffee Lovers Gift Swap to Brew up Some 90s Fun
A Friends-Themed Party and Coffee Lovers Gift Swap to Brew up Some 90s Fun
In the small New England town where I grew up, "great" coffee came from the local convenience store or Dunkin' Donuts. I didn't taste my first latte until I was in college, although I definitely pretended I knew what the mysterious milky espresso beverage was in front of my new friends. Until then, I had been convinced that the freeze-dried instant coffee granules my Papa drank were the epitome of chic. The only thing that clued me into a world of coffee I might be missing out on? Friends.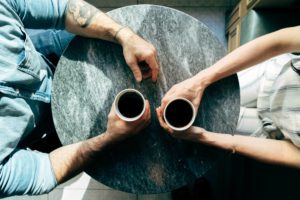 Like all of the kids in our middle school, my sister and I were Friends obsessives, quoting our favorite funny lines from the show. The biggest revelation of the show, though, was that if you lived in The City, you got your coffee at a coffee house, and a fluorescent-lit temple of beige linoleum and packaged snack cakes where we were used to getting our (decaf) coffee fixes.
When I actually did up and move to The City, I was shocked to see that places like Central Perk really do exist—cozy coffee shops serving up lattes, single-origin brews, and the occasional muffin or scone, cozy couches and chairs for lingering over every last sip of your cappuccino or Americano strewn about the room. I fell in love with the coffee culture, buying a French press for my dorm room and begging my favorite cafe to grind the bags of artisanal beans I bought from them so I could have a great cup of joe while studying late into the night.
Luckily, a lot of my friends are caffeine junkies like me, and we usually sit at our favorite cafe mulling over the news of someone's romantic exploits at least once a week. We've even got our own Gunther, a tattooed and pierced barista who is definitely more bark than bite (and probably has a crush on one of my friends, but don't let him know that you know). As Friends portrayed, coffee and socializing just seem to naturally go together, so I decided to throw a themed party and coffee swap. Friends, friends, and coffee—it was like the glamorous yet silly adult life shown on the show I idolized as a kid was finally mine!
Which Friend Are You?
I felt a long chunk of my hair fall to the ground, the air filled with the snip, snip sound of a sure pair of shears. My stylist knew exactly what she was doing; she'd given "The Rachel" to hundreds of people in the past year. But as a 13-year-old, getting a haircut inspired by the most fashionable character on Friends was a groundbreaking rite of passage for me. Goodbye, pigtails! Now, I was a woman.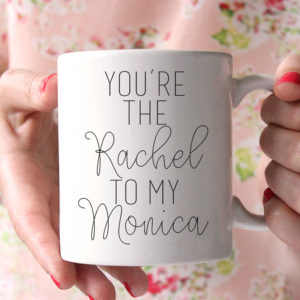 Well, not quite. I still had a maturity level that combined the cluelessness of Joey with the whiny sarcasm of Chandler, but at least I felt like I looked good. While I wouldn't suggest anyone actually get their hair cut to look like a 90s sitcom star in order to attend your party (though I'd say that would earn an extra bag of coffee during the gift swap at the end of the night if they did), it's always fun to dress up in character. You don't have to spend a fortune on a pricey costume, though. Here are some Friends costume ideas so simple even Joey (or, better yet, Marcel the monkey) could pull one together.
Ross
Lots of hair gel, for that signature wet-look coiffure

A blazer, to look extra professorial

A

dinosaur t-shirt

to wear under the blazer, because Ross totally would
Phoebe
A long, hippie maxi dress, but with a turtleneck underneath (Phoebe loved her layers!)

Lots of chunky, mix matched jewelry—extra points for crystals, especially

those with "healing" properties

A guitar, so you can serenade your friends with your own cover of "Smelly Cat" all night long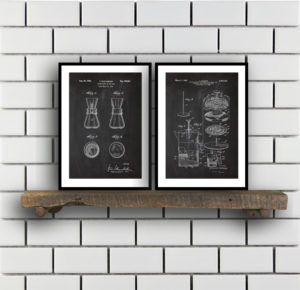 Gunther
The most colorful button down shirt you can find paired with

a clashing tie

A platinum bald cap/wig combo to get that fuzzy-headed 'do that Gunther always sported

A French press, because you're serious about your coffee

Don't forget to tuck a picture of Rachel in your wallet!
Chandler
An

oversized bowling shirt

because it seems like that's all he owned

A pocket protector since you'll need it for your job in, um, what exactly does Chandler do, anyway?

A couple of (candy) cigarettes hidden your wallet, just in case a craving strikes

Some gum, because gum is always "perfection"
Joey
The easiest costume of all: a roomy

plaid button-down

, jeans, and a meatball sub from the best Italian joint in town.
Now that you and your friends look like the cast of Friends, it's time to get your coffee on.
Homemade Coffee Ice Cream Affogatos Add Childlike Fun
The first time I had a great cup of coffee, I…hated it. Back then I was used to drinking iced coffee year-round, loaded with cream and sugar thankyouverymuch. My first taste of a strong brew, an expensive single-origin pour over cup of coffee, shocked my palate.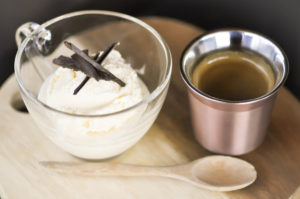 These days I'll still drink a cup of joe from the drive through in emergencies, but I can tell the difference. It turns out that the good stuff is an acquired taste, but once you get used to it and can tell the difference between "good" bitterness and the over-roasted stuff, there's no turning back.
A lot of my friends are the same way, but honestly? We can almost be too serious about our coffee. It's just a drink, after all! So, for my party, I decided to try to take our passion from the serious realm of Ross to the fun zone with Joey, keeping a little of Monica's culinary integrity in the mix for good measure.
My solution? Decadent affogatos, crafted from a simple homemade coffee ice cream made with coffee-infused whipped cream. You'll want to save the ice cream recipe for your next Ice Cream Sandwich Day Party (and, no, that's not a made up holiday). These affogatos are part after-school snack, part caffeine jolt, and just the thing to keep your party feeling more like the carefree Central Perk and less like Frasier's Cafe Nervosa.
The Ingredients:
1 cup very coarsely ground dark roast coffee beans

2 cups heavy whipping cream

A 14 oz can of sweetened condensed milk

2 tsp vanilla extract
The Ice Cream Directions:
Pour the heavy cream over the coffee beans in an airtight container. Cover and refrigerate for 6-8 hours.

Strain the cream through a fine-mesh sieve lined with cheesecloth.

Use a stand mixer or electric beaters to whip the cream until peaks form.

Add the sweetened condensed milk and vanilla to a large bowl. Fold in half of the coffee whipped cream; once incorporated, fold in the rest of the whipped cream.

Transfer to the freezer. After 45 minutes to an hour, stir the mixture to break up any ice crystals that have formed. Freeze until firm, about 2 hours, stirring vigorously every half hour or so to keep the mixture smooth.
To make the affogatos, just add a scoop of ice cream to each cup. Top with a shot of espresso or strong coffee, then sprinkle with crushed amaretti cookies to serve. Now that you're ready to settle in for a long day of relaxing (seriously, didn't anyone on Friends have a job they had to be at in the morning…), it's time for a gift swap.
A Yankee Swap That Makes Serious Coffee Lovers Smile
I may have become accustomed to getting a $5 coffee when I'm at a cute indie coffeehouse, but my small town, convenience store coffee roots still show when I try to bring myself to buy a whole bag of expensive beans. Coffee is an investment, and branching out can be kind of scary. I know a lot of my friends stick to getting the same roasts from the same coffee shops week after week, but I thought hosting a coffee swap could help get us all out of our ruts.
We'd done a coffee mug gift exchange before, but this one would be all about the drink itself. All we had to do was buy a bag of our favorite beans, wrap them, and get ready to enjoy something new in return. You can even use an online gift exchange site to organize everything, so you can keep your focus on the fun, not on setting up the swap. To throw a coffee gift swap:
Buy your coffee:

Every person should buy a bag of whole bean coffee in the $12-$20 range. Extra points for those who choose beans from a local coffee roaster!

Wrap the beans:

In a Yankee swap, part of the fun is in the mystery.

Set them out:

Place all of the wrapped gifts in a pile on your coffee table.

Draw a number:

Have everyone draw numbers from a hat. The lowest number gets to go first.

Choose a gift:

The first person should choose a wrapped gift from the pile and open it.

Make a choice:

The second person then gets to decide if they want to keep the coffee beans the first person opened, or choose an unwrapped gift. If they choose a new gift, they then unwrap it. If they decide to take the gift of the first person, the first person then picks another unwrapped gift from the pile.

Keep going:

As the game continues, each player chooses to either select an unwrapped gift or to take one of the already opened gifts from another player.

The final turn:

Once everyone has taken their turn, the person who drew #1 gets to make their final decision to keep the coffee beans they have or to swap for someone else's.
A Yankee Swap works really well for coffee because unlike a traditional game of Secret Santa, where everyone opens their gifts at the same time, each item is opened individually, giving the person unwrapping the gift time to tell the whole group about that bag of beans, from country of origin to the dominant flavor notes. And once everyone hears about the beans, the game gets more exciting as people try to swap for the coffee that suits their preferences. I know I can be pretty cutthroat if it puts me closer to a bag of Ethiopian single origin beans!
Even though my friends and I are serious about coffee, we can still have fun with it. While a typical tasting party brings out everyone's egos (because everyone wants to prove they can discern the origin of a certain brew even while blindfolded), a Yankee Swap keeps things lighthearted; the whole point is that we all get to try something new, to feel like beginners again.
Friends always had that balance. Sure, Monica was living in a palace that would cost millions in real life and Rachel had a job as a fashion buyer for one of the ritziest department stores in the country, but even though they led glamorous city lives on the surface, at the end of the day they were still getting their heads stuck in turkeys on Thanksgiving and disagreeing over the definition of "a break."
Friends reminds my buddies and me not to take ourselves too seriously, whether that means having some fun with our passion for coffee so we don't become grumpy like Gunther or hosting parties that are more about Friends than foie gras. After all, at the end of the day it's not about the coffee—it's about the people sharing the cozy cafe couch with you day in and day out.
Make every cup o' joe more special by checking out Elfster's Coffee Mugs Gift Guide. You can stay up-to-date with all things elvish on Facebook, and don't forget to check in with us on Twitter @Elfster and Instagram @Elfstergram.

Justina H. loves creating things, whether it's sewing a dinosaur-themed quilt for a friend's baby or whipping up a healthy meal using seasonal ingredients. Her favorite gifts are always homemade, and her overly-stuffed craft closet and fabric collection are always threatening to take over her apartment. Her favorite Elfster feature is the
secret santa app
. When Justina's not busy planning her next quilt, chances are she's writing the day away, Facetiming her niece, or engaging in a battle of wills with her temperamental cat. Hit her up for creative ways to bring a DIY flair to all of your fabulous gifts and parties!

Latest posts by Justina H (see all)
Please follow and like us: