Eco-Friendly DIY Earth Day Gifts for a Clean and Green Kitchen This Spring
Eco-Friendly DIY Earth Day Gifts for a Clean and Green Kitchen This Spring
For the last few years, my fiancé Nick and I have taken a creative approach to celebrating Earth Day. One year, while living in San Francisco, we crafted a kitchen composter out of a coffee canister. The next year we were hunkered down in Orange County so took a trip to Roger's Gardens, followed by an afternoon spent planting sunflower seeds in our front yard. Then came our spring in Portland, and a rainy day walk through Forest Park. We even brought that woodsy vibe home with us by crafting rustic reclaimed wood tea holders.
Showing our support for the environment on April 22nd is important to us, but it's also a way of living we like to carry with us every day of the year. We spend more time in our kitchen than in any other part of our home and, as a result, we end up cleaning it a lot! So, we like to make sure that when we put on our Motown records and get to cleaning, we're doing so in an eco-friendly way. Not only are we protecting the environment, but we love knowing that we could eat straight off our countertops—not that we ever have.
We always share our bounty of DIY cleaners with friends and family as Earth Day gifts. Here are the three undeniable favorites: dishwasher tabs, "un"paper towels, and a simple citrus vinegar cleaner. They smell good and feel good, so when you make them for others, make sure to stock up your own cupboards as well. Here's to your pristine (and newly green) kitchen!
Get a Sparkly Green Clean with DIY Dishwasher Tabs
The absolute cleanest kitchen I've ever seen was in Austin, Texas at a bed and breakfast; the innkeeper swore by baking soda and vinegar. Since then, those two items have become my wondrous miracle workers in the realm of cleaning. When you want it bright and sparkly, they do the job best.
I love the simplicity of throwing a tab into the dishwasher when it's ready to run, and the gratification of pulling out those sparkling, clean dishes (a trait I seemed to have inherited from my queen-of-the-clean mother). So when I started experimenting with my own dishwasher tabs, I went straight to my go-to clean everything basics: baking soda and vinegar.
For dish tabs, I like to combine them with Epsom salt (to reduce the effects of hard water), and the natural cleaner Borax. If you'd like, you can also add 10-15 drops of an essential oil, like lemon or grapefruit, to make your dishes smell beautiful too.
What You'll Need:
2 cups baking soda

2 cups Borax

1/2 cup Epsom salt

1/2 cup vinegar
How to Do It:
In a large metal bowl, mix all of your ingredients together.

After a bit of fizzing, once the ingredients are combined, pack the mixture down into two ice cube trays and let them dry for 24-36 hours.

When you're ready to use the tabs, I suggest adding about half a cup or so of vinegar to the bottom of your dishwasher to ensure a clean, bright sparkle.
Don't Cry Over Spilled Milk, Make "Un"Paper Towels Instead
Inspiration for the "un"paper towel came to me one evening after I used an entire roll of paper towels to sop up a carton of spilled milk. I'd recently read a statistic from the Paperless Project that if every household in the United States used just one less 70-sheet roll of paper towels a year, that would save a whopping 544,000 trees annually! I've always had a fondness for dishtowels and their sentimental value—a paisley print one given from my grandma, a heart-embroidered one from my mom—so why not create my own roll of reusable ones? And that is how "un"paper towels found their place in our kitchen.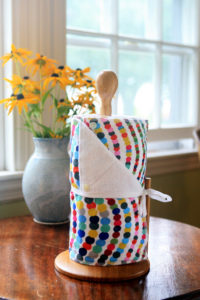 These towels now fill my cooking space with seasonal prints and quirky patterns while decreasing our waste and environmental impact. I'm not a master seamstress, but you don't need to be to sew these up. And, instead of buying new fabrics and towels, you can work to upcycle the old ones you already love, giving them new life in a loved one's kitchen.
What You'll Need:
4 12-inch squares of terrycloth

4 12-inch squares of woven fabric

A package of sew-on snaps
How to Do It:
First, line one piece of terrycloth up with one piece of woven fabric and sew up all the sides (about 1/2 inch from the edge).

Once that's finished, if you'd like for your "un"paper towels to roll up just like the paper ones do, the next step is to add your sew-on snaps. This part is up to you, but I find it easiest to first start with placement markers, 2 each, on both the left and right sides of the cloth. Attach the caps underneath and the sockets on top on the

left

side of the towel, but the sockets underneath and the caps on top on the

right

side of the towel.

The towels are now ready to be rolled and live their new life in the kitchen!
Naturally Sweet Citrus Vinegar Cleaner
This sweet citrus vinegar smells so good that it actually relaxes me while I clean. I got this idea from the same Texas innkeeper who introduced me to vinegar and baking soda. Not only was his kitchen spotless, but it also smelled heavenly of citrus. I was convinced the scent wafting through the air in his home was a candle, or the blossoms of a tree outside the kitchen window, so was surprised to discover it was actually the citrus vinegar cleaner he made himself and sprayed the counters down with to get rid of the breakfast remnants of jam and butter. It's now become my favorite cleaner to gift and to use—and it's so simple!
What You'll Need:
A mason jar

Orange peels (to fill half the jar)

White vinegar (to cover the peels)
How to Do It:
First, I'd suggest making a nice batch of fresh squeezed orange juice (and maybe throw in a big breakfast of scrambled eggs and buttermilk pancakes as an added bonus).

Save your peels and place them in your mason jar until it is half full.

Next, fill the mason jar with white vinegar, enough to cover the peels.

Let the jar sit in a dimly lit spot for two weeks before straining the citrus over a mesh sieve into a large bowl.

Pour the liquid into a spray bottle, add a simple label if you'd like, and gift (or spray) away!
Celebrating our bountiful, beautiful Earth by creating hands-on traditions is both invigorating and uplifting. Over the years, I've found simple DIY projects that enable the joy of giving (and encourage others to do the same) to be incredibly fulfilling. The kitchen is the center of many households, so sharing eco-friendly kitchen cleaning tools is a wonderful way to spread the love of all things clean, and all things green.
Happy Earth Day from Elfster!
For more ideas on how to celebrate holidays creatively, visit Elfster on Facebook, Twitter @Elfster, and on Instagram @Elfstergram. Or, search our Gift Guide for other Earth Day inspirations.

Bay E. has her BA & MA in English and creative writing from San Francisco State University. She's passionate about poetry, cooking, photography, and exploring the great outdoors. When it comes to gift-giving, she loves creating homemade gifts with a natural and artistic flair, often food-related with some sort of quote or recipe attached.
Please follow and like us: