Make Ahead Meals for Busy Moms: National Nutrition Month Activities for Adults
Make Ahead Meals for Busy Moms: National Nutrition Month Activities for Adults
I know that goldfish crackers aren't an appropriate breakfast food, but try telling that to my preschooler. They're also not meant to replace all three meals in a given day, but battling a 3-year-old's logic at 7 a.m., noon, and again at dinnertime sometimes feels like a battle not worth fighting.
That's why make ahead meals for busy moms— dishes that can be prepped on the weekend, then reheated throughout the week—have been such a lifesaver for my family. It's a lot easier to say no to junk food when you have delicious, healthy choices at hand. It's a constant juggling act to balance a nutritious diet with the realities of my family's on-the-go lifestyle, but these national nutrition month ideas will help you kick each and every one of your weeks off to a delicious start.
Better Breakfasts for Busy Mornings
Squeezing in a healthy meal every morning is a priority in my house. I know that a breakfast loaded with sugar is going to leave me and my little ones feeling bleary-eyed and hungry within an hour or two. It's an endless cycle that's too easy to get stuck in, especially for anyone who isn't a morning person, myself included.
Thankfully, there are a lot of simple make ahead breakfasts you can prep on the weekends, then grab-and-go on weekday mornings. You'll get the nutrients you need to make your days not only manageable, but enjoyable. These are the fast breakfasts my family loves—no culinary degree required:
Whole wheat pancakes:

Baking with whole grains can seem intimidating, and more nutritious than delicious, but these

whole wheat pancakes

are surprisingly easy

and

tasty. They use more baking powder than most pancake recipes, making them a little extra fluffy. We like to make them on the smaller side so they fit in the toaster oven for reheating. Make an extra batch or two if you serve them up for Sunday brunch, freezing them in a single layer before transferring them to a zip-top bag. They reheat in just a couple minutes and a smear of almond butter and some all-natural jam makes them nearly irresistible to kids.

Omelettes in a mug:

Beat a dozen eggs together on Sunday, then store in an airtight container in the fridge. On weekday mornings, add a couple tablespoons of frozen mixed veggies to a mug. Microwave for 30 seconds, then add ¼ cup of the beaten egg mixture, salt, pepper, and a tablespoon of cheese. Microwave for another 30 to 60 seconds, or until the egg is fully cooked.

Overnight oats:

We make overnight oats in mason jars with lids on the weekend, then grab one on our way out the door on busy mornings. The basic recipe is simple: add ½ a cup of oats, 2 tsps of chia seeds, and ¾ cups of milk to a mason jar, along with any spices, sweeteners, fruit, etc. that you fancy. For creamier oats, you can add a tablespoon or two of yogurt; for thinner oats, add more milk. Stir well, then cover. Overnight oats can be eaten cold, or you can microwave them for about a minute until they're warm. Play with the flavors. Cocoa powder and some mini chocolate chips make for a sweet breakfast that's still healthy; coconut flakes and sliced bananas are a tropical treat; and apple butter and cinnamon replicates a classic instant oatmeal flavor in a more nutritious way. It's a surprisingly healthy choice that kids and adults will both devour.

Breakfast burritos:

Find an easy breakfast burrito recipe you love, then make a batch to freeze. These can easily be microwaved in the mornings for a quick meal. I like making vegan breakfast burritos by "scrambling" some extra-firm tofu with onions, bell peppers, garlic, cumin, and turmeric, then adding the mixture to a tortilla with vegetarian refried beans and salsa. I've even added leftovers, everything from pot roast to barbecue pulled chicken, along with some scrambled eggs and cheese. You can use egg whites, extra veggies, and whole wheat tortillas for an even lighter option.

Healthier toaster pastries:

I'm obsessed with toaster pastries, but they're more of a treat than a proper breakfast. That's why I love the idea of making them myself. Using a whole wheat pastry crust adds some complex carbs and fiber into the mix, and I can choose a filling that's free from high-fructose corn syrup, artificial dyes, and added sugars. Kids are creatures of habit, so sometimes you have to compromise and these

vegan toaster pastries

are healthier than what you get at the store, but are still familiar enough that kids (and you) will chow down without a fight.
Grown-Up Lunches for On-the-Go
Before our kids came along, my husband and I were both putting in 70 hour work weeks, but we knew we couldn't subsist on soggy deli sandwiches alone. A homemade meal wasn't just healthier—it was also a pleasant mid-day reminder of life outside of work.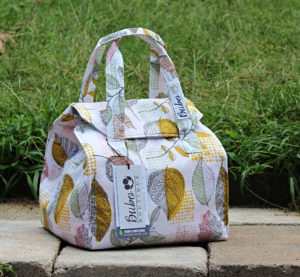 Making meals in batches was the easiest way to keep well fed on our craziest of days. Just prepare enough veggies, grains, and protein for five weekday meals on the weekend, add them to air-tight plastic containers, then grab one on your way out the door for healthy lunches all week. These are our favorite meal prep lunches (served hot or cold):
Chicken fajita bowls:

Fill containers with cooked brown rice, then top with fajita-seasoned grilled chicken and veggies. Add some salsa, hot sauce, or a sprinkle of cheese if you're feeling fancy.

Teriyaki tofu bowls:

Marinate cubed tofu in teriyaki sauce, then pan-fry until browned on all sides. Add to containers with soba noodles, microwave-in-bag stir fry veggies, a drizzle of sesame oil, and some sriracha.

Chicken pesto pasta bowls:

Saute chicken, bell peppers, onion, and garlic with salt and pepper. Cook whole wheat pasta and toss with storebought pesto. Add pasta to containers, then top with the chicken-veggie mixture.

Tandoori chicken bowls:

Marinate chicken in yogurt, garlic, ginger, and curry powder. Grill, then add to containers with brown rice and roasted broccoli.

Greek chicken bowls:

Marinate chicken in balsamic dressing. Grill chicken, then add to containers with cooked bulgur wheat, chopped cucumbers, grape tomatoes, feta cheese, and a lemon wedge.
Assembly Line Lunches for Kids
I remember school lunches being full of highs and lows. 7-layer bars for dessert? I still dream about them. Mystery meat casserole? It made me jealous of the kids who remembered to pack a lunch! My kids are picky eaters, so they always bring a lunch from home. To save time in the mornings, we started assembly line lunches:
Add a variety of fruits to one of the drawers in your fridge. Think easy-to-eat clementines and apples, or grapes you've portioned out ahead of time.

Clear a spot in your fridge, and place two containers about the size of shoeboxes next to each other. Label one "sides" and the other "mains."

In the "sides" bin, add things like string cheese, yogurt, or individual packs of baby carrots.

In the "mains" bin, add the "entrees." These can be sandwiches, wraps, or tupperware containers filled with leftovers.

Label an organizing bin "snacks," and put it in an easy-to-reach spot on the counter. Add nonperishable snacks like packs of nuts, whole grain crackers, and fruit leathers.
In the morning, each kid just grabs one item from each container, along with a juice or milk box, and adds it to a lunch bag. It's so much easier than having to sort through everything in the fridge or cupboard each morning!
Throwing a Meal Prep Party
I don't want to miss out on weekend socializing just so I can prepare meals for the coming week each Sunday, and my best friend is in the same boat. We both love entertaining (Beauty and the Beast-themed dinner party, here we come!), so we decided to throw a slowcooker soup mix party. The idea was that everyone coming to the party would make enough of one slow-cooker soup mix recipe for themselves and each of the other guests. Then, we swap, each person going home with five different jars to keep in the pantry, each ready to throw in the slow-cooker on a busy morning for dinner that evening.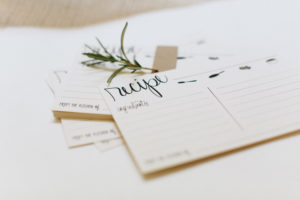 We decided on soup mixes because they're easy to make, full of healthy beans and veggies, and loved by kids and adults alike. And, dried beans cook up beautifully in the slow-cooker, meaning none of us would have to spend time fussing over the stove at the end of a long day. To throw your own soup mix party, set up a gift exchange online and have each guest mix up one of these recipes:
All of the recipes are customizable—add cans of fire-roasted tomatoes to enrich the broth, stir in a splash of half and half at the end of cooking to make your soup creamy, throw in smoked ham hocks or smoked pork chops with the rest of the ingredients to add more umami, or spice to suit your personal preference.
We all left the party with five nights of meals, after only having to prepare one of the recipes at home—a pretty good trade-off, if you ask me! But, whether you make soup mixes or freezer meals, the real gift you're giving one another is more time to enjoy the good things in life with your families.
It seems like everything in my life goes more a little more smoothly when I'm eating nutritious meals. It's just a matter of making them a priority, and setting aside time on the weekends to prepare for a busy week ahead. My little one still has a thing for her Goldfish crackers, and I'll snack on a bowl of sugar-coated cereal on special occasions, but in our everyday life, we're eating more healthy foods, all because we're taking the time to plan ahead.
What are your favorite meals to cook with your family? Let us know on our Facebook page, on Twitter @Elfster, or on Instagram @Elfstergram. For ideas on what to get the chef in your family, check out our kitchen gift guide.

Justina H. loves creating things, whether it's sewing a dinosaur-themed quilt for a friend's baby or whipping up a healthy meal using seasonal ingredients. Her favorite gifts are always homemade, and her overly-stuffed craft closet and fabric collection are always threatening to take over her apartment. Her favorite Elfster feature is the
secret santa app
. When Justina's not busy planning her next quilt, chances are she's writing the day away, Facetiming her niece, or engaging in a battle of wills with her temperamental cat. Hit her up for creative ways to bring a DIY flair to all of your fabulous gifts and parties!

Latest posts by Justina H (see all)
Please follow and like us: