A Sorbet Soirée: National Nutrition Month Party Ideas for Creative Ways to Serve Fruit
A Sorbet Soirée: National Nutrition Month Party Ideas for Creative Ways to Serve Fruit
Growing up on an avocado farm in rural San Diego, fresh fruit was almost always in season. Our property was filled with pomegranates, blood oranges, apples, bananas, lemons, limes, cherimoyas, and, of course, our beloved, creamy avocados.
Early on, my parents instilled in my siblings and me a passion for fresh fruit that still runs deep. When we get together as a family, all of us "kids" often end up in the orchard, eating oranges straight from the trees, letting their sticky juices run down our hands, or experimenting with the slightly tangy taste of mini latundan bananas ("apple" bananas) in our birthday cakes. The sweet smell of vibrant tropical plants envelops us every time we return to our childhood home.
In March, we celebrate the start of springtime and National Nutrition Month. It's the perfect opportunity to draw in friends and family to your own backyard and start a nutritious tradition. Giving kids a love, a zest, for fruit early on paves the way for healthy eating well into adulthood. A backyard sorbet soirée is a deliciously sweet way to welcome in the fruit-filled season—and show little ones that nutrition can be both silly and good for you.
DIY Fresh Fruit Costumes
I welcomed some unusual guests to my last backyard get together—a six-foot tall strawberry, a slice of walking watermelon, and a banana who could talk. For the party, encourage your guests to come dressed as one of their favorite fruits! You can even have a contest for the most clever or outrageous costume, allowing the winning piece of fruit to take home a basket of fresh finds from the local farmer's market.
Fruit-inspired costumes are actually quite easy to get creative with. Here are a few of my favorite DIY ideas:
Giddy Grapes
I first stumbled upon this costume idea one Halloween a few years back when I thought I had absolutely nothing to wear for a last minute invitation. My quick-thinking best friend ran to a party store and, in less than half an hour, I was transformed into a bunch of grapes.
Materials List:
Purple leggings

A purple top

A green headband

Several bags of purple balloons

Safety pins
Instructions:
Blow up your balloons, leaving about an inch after the tie so they can be easily attached to your clothes.

Put on your purple apparel, making sure they aren't pieces that can easily snag.

Carefully pin the balloons onto the top half of your body, adding a few near your hips to achieve the grape shape.

To complete your ensemble, you'll need a green stem. I used a thick green headband, but you can also wear a scarf or piece of fabric.
Pineapple People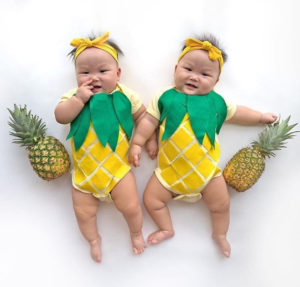 The vibrant colors and unique shape of a pineapple make it one of the most eccentric in the tropical world—and, with its sweet, juicy flavor, it tends to be a favorite amongst even the pickiest of kids. What I love most about the pineapple, especially for parties, is that it symbolizes the feelings of home: warmth, welcome, and hospitality.
A pineapple costume is a simple DIY project for all ages to help craft. You'll want to dress head to toe in yellow clothing, then create this easy pineapple topper using a toilet paper tube, green card stock, and a headband.
Cut your cardstock into leaf shapes of various lengths. I made 6, 8, 10, and 12-inch pieces, four to five leaves of each length. Then, starting with the longest pieces, hot glue them to the top of the toilet paper tube. Continue gluing the leaves down the tube, from longest to shortest. When you're finished, flip the tube upside down. Attach it to a headband with glue to secure it in place. And, just like that, you've become the pine-apple of your guests' eye.
Fruit Stamped Invitation Inspiration
When I first discovered "fruit stamping," my homemade cards I love to send to friends near and far blossomed into new levels of craftiness. I started stamping with apples, oranges, limes, and, my personal favorite, lemons. To create these simple but ingenious invitations, you'll need just three things: half of a lemon, a bit of yellow paint, and a plain white card.
First, cut your lemon in half and dry it with a paper towel to get rid of excess moisture. Next, dip the lemon into your paint and press it onto the blank card as if it's a sponge. Make sure not to use too much paint when you dip, or the fine details of the lemon won't show up as well. Just think of it like a stamp. Less ink is often better for detailed results. Be sure to get your kiddos involved in this; it's a bit sticky, so they'll love this project!
Strawberry-Guava-Grapefruit Fields Forever Playlist
My childhood memories of food are so closely intertwined with music. Strawberry Fields Forever would play as we made strawberry jam. I Heard It Through the Grapevine would echo as we'd indulge in an afternoon snack of grapes and sliced cheese. Blueberry Hill would sound through the open kitchen on Saturday mornings when we'd measure out fresh blueberries to add to our homemade pancakes or waffles.
To this day, I have specific playlists for stirring a pot of pasta sauce, making pizza dough, or mixing guacamole. But the playlist below is the one that comes through my speakers when I'm in the mood for all things sweet and fruity. Hit play to create the ultimate fruity vibe and get all your guests grooving to their love of fruit in your backyard:
A Tutti Frutti Party Playlist
Tutti Frutti

by Little Richard

Strawberry Fields Forever

by The Beatles

I Heard it Through the Grapevine

by Marvin Gaye

Banana Boat

by Harry Belafonte

Coconut

by Harry Nilsson

Apples and Bananas

by Raffi

Grapefruit – Juicy Fruit

by Jimmy Buffet

Guava Jelly

by Bob Marley

Cantaloupe Island

by Herbie Hancock

Blueberry Hill

by Fats Domino

Tangerine

by Frank Sinatra

Little Green Apples

by O.C. Smith
Homemade Honied Sorbet
Easy-to-make, fruit-based sorbets will get your kids' creative juices flowing in the healthiest of dessert ways. Fruit sorbets can be simply made with sugar, water, and your fruit of choice, but I like to make mine with honey to let the natural sweetness of the fruit shine through.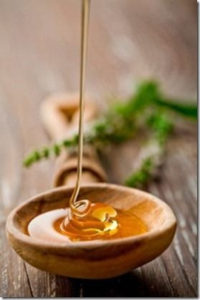 For parties, I find fruity sorbets to be especially fun when given a little extra visual a-"peel" by scooping the sorbets into fruit shells before serving. Watermelon, orange, lime, and lemon sorbets all look beautiful and refreshing when served in hollowed out shells.
Lemon sorbet is my favorite party treat to whip up because the ingredients are inexpensive so you can create a big batch. The first time I made lemon sorbet with honey, I was hooked. A little bit tangy, a little bit sweet, and a lovely pale yellow in color, it's a sorbet sure to make your springtime guests swoon.
The Ingredients:
(makes about 6-8 small servings)
1 cup honey

1 cup water

1 1⁄2 cups freshly squeezed lemon juice (from about 12 small lemons, with 4 lemon halves reserved to use as cups)
The Directions:
Combine the honey, water, and lemon juice in a large saucepan over medium heat, stirring until the honey is dissolved. Remove from heat and allow to cool.

Pour the lemon mixture into your ice cream maker and freeze according to the manufacturer's instructions. Or, just pour it into a freezer-safe container like a shallow metal cake pan. If you use a pan, you'll need to stir and smash the sorbet with a fork every 30 minutes until it's firm.

To get your lemon cups, cut a small circular slice off the bottoms of the reserved lemon halves so they'll stand up, then use a small spoon to hollow out the insides.

When you're ready to serve the sorbet, fill up the lemon cups with the sweet treat.
Once you start experimenting with homemade sorbets, you'll find you can use any fruit you'd like, and even jazz them up with fresh herbs like mint or thyme.
A DIY Paper Fruit Garland (and Party Favor)
With sweetness still lingering on your guest's tongues after digging into their sorbet, it's time to sit and unwind with a fruit-inspired craft. At a long table covered with parchment paper, set out card stock in every color you can find, scissors, pencils, glue sticks, mini clothespins, and baker's twine. Also set out an assortment of sliced fruit for your guests to draw inspiration from—strawberries, pineapple, watermelon, oranges, limes, and lemons.
Have your guests trace what they see, cut out the shapes, glue on a bit of greenery or seeds for detail, then attach the fruit cut-outs to the baker's twine with the mini clothespins to create a paper fruit garland that can be taken home as a party favor. String them up in your kitchen or in your kids' rooms to add pops of color—and remind them that fruit is fun! An appreciation for nutritious fruit is something that can be cultivated in childhood and last into adulthood.
Happy National Nutrition Month from Elfster! May it be full of goodness that fills the belly and the soul.
For more pieces of springtime inspiration and feel-good food-related festivities, join Elfster on our Facebook page, on Twitter @Elfster, and on Instagram @Elfstergram.

Bay E. has her BA & MA in English and creative writing from San Francisco State University. She's passionate about poetry, cooking, photography, and exploring the great outdoors. When it comes to gift-giving, she loves creating homemade gifts with a natural and artistic flair, often food-related with some sort of quote or recipe attached.
Please follow and like us: