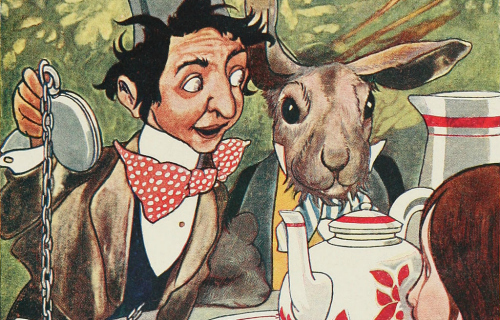 National Read Across America Day Ideas for an Alice in Wonderland Mad Tea Party
National Read Across America Day Ideas for an Alice in Wonderland Mad Tea Party
"Dear dear, how queer everything is today. And yesterday things went on just as usual!"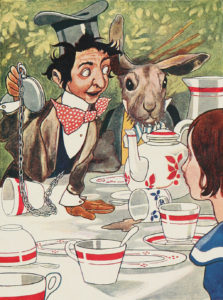 Have you ever had a Mad Tea Party? To do so, one has to be warned, is to abdicate any sense of rules or decorum. It is to embrace nonsense as the guiding principle: pure, anarchic nonsense of the kind that leads to sloshed tea cups and wild, wordy toasts, circumlocutions that never quite make a circle. It's bonkers, of course, and you'll be bonkers for joining in. But the best people are.
The worlds created by Lewis Carroll in Alice's Adventures in Wonderland and Alice Through the Looking Glass are celebrations of many things. They're mathematical metaphors. They're lovely and adventurous excursions into the gleeful jungles of language. Most of all, they're an ode to imagination, wonder, and the persistent logic of children in a world that grownups make upside down and absurd with rules and customs. It's why Alice, sweet and wonderful, stubborn and brave Alice, has persisted for over a hundred years. And it's why we celebrate her, and Carroll, on National Read Across America Day.
Today, March 2nd, the National Education Association is proud to celebrate Read Across America Day, when educators, parents, librarians—anyone who loves the gift of books—shares that magic with children. One of the authors celebrated this year is Lewis Carroll, which is why we think that it's the perfect time to have an Alice in Wonderland-themed party. Send out fanciful Wonderland-themed invitations to friends, and make sure the children are there. Have your amazing Alice in Wonderland-inspired bookmarks from Elfster for party favors. And, don't be late, for the Duchess will be savage.
EAT ME and DRINK ME: Refreshments for the Party
"First, however, she waited for a few minutes to see if she was going to shrink any farther. She felt a little nervous about this. 'For it might end, you know,' said Alice to herself, 'in my going out altogether. I wonder what I should be like then?' And she tried to fancy what the flame of a candle looks like after the candle is blown out, for she could not remember ever having seen such a thing."
The first thing you'll need, of course, is tea. You can't have a Mad Tea Party without it. At the very least, you'll want to have some unexpectedly delightful teacups (preferably with a saucer to catch the sloshings). Not every kid likes tea, though, and depending on the ages of your party guests you might not want to have hot liquids, but you can fill a teapot with anything. Just remember that if you're in the spirit of things, it'll get messy. After all, they'll be toasting with the Mad Hatter, the March Hare, and the Dormouse.
For nibbles to eat, they mostly had cakes and crackers, and little English sweet things. You might not be able to get the exact kind, so cupcakes and cookies will do. Make sure, though, that you have EAT ME signs and DRINK ME tags on all the sweets and beverages.
If you're having a party just for adults, consider serving Mock Turtle Soup. It's an English dish that was cheaper than actual turtle soup, using sirloin, eggs, chicken broth, and a lot of seasoning. It's pretty delicious, and simple to make. It's themed, of course, because Alice meets an actual Mock Turtle, who tries to regale her with his tale of woe, although he's constantly interrupted by a Griffin, much to sweet Alice's intemperate annoyance.
You might feel bad about eating Mock Turtle Soup, but Alice herself said that she's seen it "at Dinn…," to which the Turtle responds that he doesn't know where Dinn may be. All the better, perhaps.
Playtime for the Imagination: Lunatic Croquet and the Lobster Quadrille
"The chief difficulty Alice found at first was in managing her flamingo."
With all the madness and the fun (and the tea and cupcakes), the kids at the party should be pretty revved up. Here are a few activities for them:
Lunatic Croquet
This is probably the most famous scene in the book: the game of croquet with the Queen of Hearts. The mallets are flamingos and the balls are hedgehogs and the arches are the Queen's playing cards, and they all scramble around to help the demented and distorted old head-chopper win the game. Alice thinks this is dreadfully unfair, but the lawless nature of it makes it perfect for kids.
Get a good children's deluxe croquet set, set it up in the yard, and let them go nuts (employing proper mallet safety, of course). There doesn't need to be any rules. They should take delight in the thwacking. There are just too many rules everywhere for kids. They can't go here and they shouldn't see this and they certainly can't watch that. Before they become adults, with our imaginations limited by customs and shoved into these costumes of grown-ups, let them play.
Lobster Quadrille
If that's not enough, maybe it's time to dance the Lobster Quadrille. That's a dance the Mock Turtle teaches Alice, and it involves throwing lobsters in the sea, doing somersaults, and running around. There are also snails involved. You're not really going to be able to do it. And that's ok. The whole point is for the kids to just…join the dance. Have them make it up.
Let each kid create a short dance to teach to the other kids. It could be to the tune of the Lobster Quadrille (the Franz Ferdinand version or the classic one), or whatever tune pops into their wild and unfettered heads when you read them the lyrics.
"Will you walk a little faster," said the whiting to the snail

"There's a porpoise close behind us, and he's treading on my tail"

See how eagerly the lobsters and the turtles all advance

They are waiting on the shingle- will you come and join the dance

Will you, won't you, will you, won't you, will you come and join the dance?

Will you, won't you, will you, won't you, will you come and join the dance?
Reading Keeps Childhood Alive
"A cat may look at a king," Alice said. "I read that in a book somewhere, but I don't remember where."
Will you, won't you? Won't you join? That's what National Read Across America Day is all about. It's about having kids join a magical club, one where the only limit is imagination, and in the mind of a beautiful genius like Lewis Carroll, that means there are no limitations.
So make sure that you have everyone gather round, and read from the book. Maybe the kids have seen the movies. Maybe even in your head, the ideas are dominated by the Tim Burton renditions or, more likely, the classic cartoon. And that's fine. Those are both wonderful.
But something magical happens when you start reading, and it happens to young and old alike. His words, and her thoughts and feelings, create their own images in your head. You see Alice as every child, as your children, or as someone close to you. Or maybe you reach back and put your own childhood in there. Because that's what it is. Alice is who we are when we allow ourselves to be children, and she's who children are at their most ferociously curious, when asking why is less a question than a driving need. It's a time when exploring the next room means finding the entire universe. Alice chased a rabbit, and found a new world. Every day should be like that for children.
Reading allows them to do that, which is why after all the running and sloshing, the heart of the party should be the book. You give them that impossible galaxy of childhood. And that's something they'll keep—forever. By sparking imagination with Carroll's words, you can help make sure that the sweet longings of childhood are never fully extinguished, and carry with them throughout their long and lovely lives. Lewis Carroll says it best, as Alice's sister reflects on the dream her younger sister told her:
"Lastly, she pictured to herself how this same little sister of hers would, in after-time, be herself a grown woman; and how she would keep, through all her riper years, the simple and loving heart of childhood; and how she would gather about her other little children, and make their eyes bright and eager with many a strange tale, perhaps even with the dream of Wonderland of long ago; and how she would feel with all their simple sorrows, and find a pleasure in all their simple joys, remembering her own child-life, and the happy summer days."
Don't forget your Alice-themed bookmarks or our Wonderland Gift Guide! How are you celebrating Read Across America Day? What's your favorite book? Tell us on our Facebook page, on Twitter @Elfster, or on Instagram @Elfstergram. And, for inspired gifting ideas, browse our Lewis Carroll gift guide.

Brian thinks that giving someone a gift is just about the most fun you can have, so long as you don't stress out about finding the right one. He likes helping people not stress out during the holidays. Hit him up for ways to make your Christmas more fun.
Please follow and like us: