Last Minute Oscar Party Planning Ideas That Blend Hollywood Glamour with Glitzy Fun
Last Minute Oscar Party Planning Ideas That Blend Hollywood Glamour with Glitzy Fun
I have a confession: I don't hate the Oscars. I know I'm supposed to grumble about how you can't really objectively judge art, but my wife and I watch every year. I'll also pretend I don't know who everyone is, saying things like, "What's a Hayden Panettiere," or whatever, but I peruse the celeb clickbait articles. Sure, I'll tell myself that my fingers did so on their own, but we know the truth. When it comes down to it, I still love the glamour of Hollywood.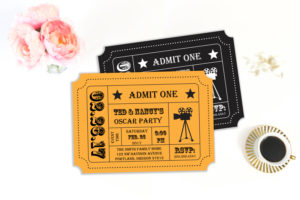 What I don't love, is throwing an Oscar party, because the Oscars are kind of weird, right? If you have friends over for the game, you can talk during it. If people are over to watch a movie, you don't really talk at all (that's not a hypothetical: you do not talk during movies at my house).
But the Oscars are different. You want to hear what the people are saying so you can joke about it, but you don't want total silence, since hearing a millionaire thank their investment consultant can get a little tedious. It's long stretches of tedium punctuated by drama and excitement.
But, I finally realized, that doesn't have to be limiting for a party. In fact, it's liberating. It gives you a chance to do some cool stuff as a host to break up the long stretches, and to make sure that everyone is having a good time throughout. I mean, I can't promise that your guests are going to have as good a night as someone who wins an Oscar. But, they'll have a much better time than someone whose idea of an Oscar night event used to be fake-complaining to their wife (and, it goes without saying, a way better time than the wife).
Here are a few ways to make sure your party is better-remembered than Crash. Envelope, please?
Oscar Ballots, Red Carpets, and Gift Baskets
This activity is a no-brainer. Have everyone fill out a form picking the winners—but not just the standard categories. Feel free to be creative! Some ideas include:
Longest speech

First person to mention politics

Jokes made by the host that no one laughs at

Most revealing dress

Times the camera cuts to George Clooney grinning ruefully
Of course, the winner needs a prize. A gift basket is the way to go here, like the bags every attendee of the big show gets to take home. It's no different than studios wining and dining voters.
And, you can present the prize on its very own "red carpet," or, basically, a fancy red table runner. This is also where your snacks and appetizers can be shown off, along with whimsically framed photos of celebs, if you'd like. The size differential will let movie stars know that, no matter how famous and beloved they are, pigs in a blanket are always more important.
Elegantly Dressed Appetizers
OK, maybe pigs in a blanket aren't terribly Hollywood, although they have a permanent place at any of my parties. Here are a few more elegant options:
And, for dessert, just add pre-made Hollywood inspired fondant toppers to homemade (or store bought) cupcakes for an easy way to make them shine brighter than the faux diamonds on all those dresses.
Popcorn: Since the Dawn of the Movie Era
It's sort of weird that there's one food explicitly connected with movies, right? When we're in a movie theater, we feel we must get popcorn. Frankly, I love that. I love movie popcorn to a (literally) unhealthy degree. And so do most people, which is why you should have it at your party.
Get a popper, get some butter and salt, and, if you're me, that's all you need for popcorn bliss.
However, other people seem to want more varieties, which is why popcorn bars have become so popular lately. You'll need sweets, lots of different seasonings, and classic treat bags. People can have all the popcorn they want, and can really feel like they're at the movies.
And then, when everyone is settled in their seats, snacks at hand, ballots counted, surprise one or two of your friends with a custom-made Oscar. This has to be planned in advance, of course, but it's a great way to round out an evening.
The winner of the ballots gets the fruit basket, but you can also pick friends for idiosyncratic awards, like your friend who eats popcorn one kernel at a time, or the friend who shushes everyone at the end of each commercial break. My award would be "Most Likely To Pretend Not to Like Something He'll Spend Four Hours Reading About Tomorrow." Everyone can go home with a trophy. And everyone can be a winner, without having to appear on the cover of Us Weekly every time you want to buy some hot dogs.
You can have a great Oscar party at your house, with people whose company you enjoy, to celebrate one of the more harmlessly goofy things in American life: being genuinely happy or upset for people who will be jetting to Paris the next day. You'll realize, when it's over, that you may have been reluctant, but it was worth it. It's an honor just to have friends to spend time with. And you can nominate yourself for that.
Tell us your best Oscar party stories on our Facebook page, on Twitter @Elfster, or Instagram @Elfstergram. And, for carefree gifting inspiration, browse our gift guides.

Brian thinks that giving someone a gift is just about the most fun you can have, so long as you don't stress out about finding the right one. He likes helping people not stress out during the holidays. Hit him up for ways to make your Christmas more fun.
Please follow and like us: