National Send a Card to a Friend Day: Letter Writing Inspirations and Ideas
National Send a Card to a Friend Day: Letter Writing Inspirations and Ideas
"Oh, my stars! It's a letter from dear Willeford! He's writing from far off America!"
You've probably watched a scene just like this one on some BBC period drama, with sumptuous clothes and weirdly bad lighting and various viscounts—and a character exclaiming delightedly at receiving a letter.
It's almost unimaginable that there was a time when you could go months without word from a loved one, instead of reading about the daily life of grade-school acquaintances on social media. But there's also probably a twinge of regret; regret that you don't get letters anymore. The mail is often nothing more than ads and bills—there's no mystery.
We've gained so much from instant communication, but we've also lost something. That's why we're so excited that National Send a Card to a Friend Day is coming around this February 7th. When you send a card, a letter, or an e-greeting, you're giving so much more than a piece of paper. You're giving a gift of yourself. You're giving the gift of words. You're sending love in an envelope—even if it's a digital one.
Greeting Cards Are an Unexpected Event
If you're like me, when you get a card in the mail, you look at the envelope a few times, almost confused. You see the return address with a familiar name, but it's not your birthday. It's not Christmas. It's just…a day. And that's when you start to get excited.
You're excited because it's unexpected. It could be an invitation to a party, or the announcement of a baby. You open it, and it's a note. It's a card, hand-written. It's heartfelt. It matters because the meaning behind it is that you were thought of.
And it's the same with an e-card. We get so much junk and nonsense in our inboxes and social media feeds all day that the unexpected ping of something sent just because you're you makes an enormous difference. The surprise of an e-card cuts through the chaff of our never-emptying inbox, and sends the gift of brightness.
Now, with this holiday, it's not about everyone getting a card on the 7th. That would be had to coordinate, given the times it takes mail to be delivered. Of course, you can do that with e-cards but, otherwise, we're looking to send them on the 7th. So get some blank cards, stock up on envelopes, stretch out your hand, and put pen to paper.
Prompts and Inspirations to Send Your Love
Obviously, we can't tell you exactly what to say, but we can give some ideas, some prompts, some bits of inspiration:
Send best wishes. Remember that these cards don't have to be written to your best friend in the whole world. They can be to a relative you don't talk to enough, an acquaintance with whom your main interaction is the occasional Facebook "like," or an old neighbor who you used to hang out with until you moved away. Just send a card saying you're thinking about them, and hope they're doing well. Tell them you miss them. And that's enough.
Send something personal. All cards are inherently personal, but make sure that what you're writing isn't mass-produced, but directed to a specific person. Ask something about them, let them know that you're writing with them in mind. We don't expect this from an invitation or a thank you note from a wedding, but when sending a card out of the blue, take the time to make it a reflection of your relationship.
Send your personality. Remember that while you're sending the card to a person, you're sending it from yourself. So find a card that reflects who you are, and how you're feeling. Are you sending warmth and love? Are you feeling goofy? Do you want to send cute animals or cute actors (goslings and Goslings)? The writing is what matters, of course, but you also want to make sure the card makes people think of you with a smile on their face when they see it.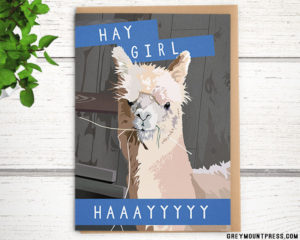 Send gratitude. Sometimes, you just want to tell a person that you appreciate them. It might be for doing you a solid one time, or it might be because you're happy they exist, just knowing that they're out there with their own personalities, with their greatness and their flaws, with their huge heart and goofy laugh. You're grateful that you know them. Your life is better for knowing them. Because life is measured by the people we let into our hearts, and who we are is shaped by those around us.
Send a photo. I know there are over 82,000 pictures of you online, most of which involve cake of some kind, for some reason. Those are cool, but there's something great about holding a tangible photo. If you have a real, printed picture of you with a friend or family memeber, whether you printed it off your phone or dug it out of a shoebox, that matters. It moves from ephemeral to tangible. It's a great thing to get in a card. It's an amber-captured smile.
Send something funny. I once got a card from an old friend of mine telling me a goofy story that just happened to her. She said that only I would get why it was so funny, and it cracked me up. It reminded me of absurd things happening when we would hang out and how we'd laugh like idiots until everyone else backed off, confused. A card doesn't have to be ooey-gooey to be meaningful. The funny story reminded me of our friendship, and was an incredible thing to get out of the blue. I felt that old connection every time I looked at it. And I laughed. That's not a bad deal.
Send a memory. A card is something that you'll dig up a few years later, buried in a drawer or a scrapbook, and you'll remember when you got it, and how exciting it was. But the card itself can contain a memory. You can write someone and say, "I was just thinking of that time we drove all night to catch the concert," or, "I was just remembering how you held me when I found out she was sick," or anything else. It's a bond, it's a remembrance reaching out from the page. Each sentence, each letter, contains the sound of the band or the smell of the salty breeze or the arm wrapped around you in your sorrow—and a gratitude for their friendship.
That's what's amazing about sending a letter. You're making the effort to reach out, to connect in a way outside of the speed and impermanence of our modern world. There is so much to love about the way we communicate in the modern, technological era, but there is also much to love in what we've lost.
But you can find it again. This February 7th, sit down and write a letter. You don't need wax seals or trained birds or a fancy Victorian desk. You just need to think about a person, wonder what they would love to open, and get to writing. A letter is more than a piece of paper. It's a gift that can only come from one person, and that might be the most meaningful gift of all.
Let us know your most unexpected card story on our Facebook page, on Twitter @Elfster, or Instagram @Elfster. And, for carefree gifting inspiration, browse our gift guides.

Brian thinks that giving someone a gift is just about the most fun you can have, so long as you don't stress out about finding the right one. He likes helping people not stress out during the holidays. Hit him up for ways to make your Christmas more fun.
Please follow and like us: