A Gift in Itself: Easy Eco-Friendly Christmas Wrapping Ideas
A Gift in Itself: Easy Eco-Friendly Christmas Wrapping Ideas
As a child, Christmas was full of magic. I loved the gifts, the food, being with family—and collecting leftover wrapping paper at the end of all the festivities. I always asked my family and friends to unwrap their presents carefully so I could save the paper. Then, I'd spend long, winter hours indoors turning the sparkly, colorful, crinkly scraps into art projects.
Years later, I still love crafts and DIY, but I'm also more conscious about how wrapping paper affects the environment: it's difficult to recycle because it contains glitter or foil, as do many cards, ribbons, and gift decorations. Fortunately, I've found plenty of eco-friendly alternatives to gift wrap, and, when wrapping can be reused, it becomes a gift in itself.
Fabric Is the New Paper
One of the most beautiful gifts I've ever received was a set of baking items—large spoons, a spatula, a silicon brush—all tied together with a bright red kitchen towel. As an avid baker, I loved that the towel was a functional part of the gift—and matched my kitchen perfectly.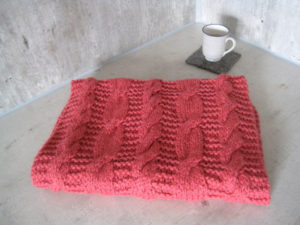 Scarves, kitchen towels, and even shawls, can be used as earth-friendly alternatives to wrapping paper. You don't need a special technique either: just wrap gifts as you would using paper, but fasten loose ends with safety pins instead of tape. And, for bonus points, use a scarf with fabric that complements the gift. For a grown-up Harry Potter fan, for instance, wrap a copy of The Cursed Child in a scarf printed with the Marauder's Map.
I always buy my mother a new diary for Christmas, and, this year, I paired it with a novel (for some writing inspiration), then wrapped it in a knit shawl to keep her toasty warm while she reads in her favorite armchair. As a queen of resourcefulness, I know my mother will appreciate not only the inventiveness, but functionality, of my wrapping!
Replace Your Ribbons
For Kylie, my dear friend and fashion aficionado, I ordered a handmade jewelry box from a local woodshop. The woodworker unexpectedly gift wrapped it for me in recyclable, but simple, brown kraft paper, so I added a beaded wrap-around choker for flair.
The wrap-around choker trend doesn't seem to be going away anytime soon. As a ribbon detractor (it tears easily, it's hard to reuse, and it's even harder to recycle), I've started replacing it on all my gifts with a wrap-around choker—and a cute, handwritten tag telling my giftee how to wear it.
Fabric ribbons are another great eco-friendly option—and can come in any color, pattern, or style you can dream up (or pick up at your local fabric shop). They can be reused in many ways, from vintage-style headbands to bows for wreaths, and they're easy to store, so you keep several on hand for use again and again.
To make your own fabric ribbon, start with a couple yards or so of fabric—this is a great way to destash some old fabrics if you're a crafter! Then, follow these simple steps:
Snip fabric on either side of the selvage line using fabric scissors.

Gently tear off the selvage on both sides of your fabric, leaving a raw edge.

Snip across the top of the fabric, every 2" or so depending on your desired ribbon width.

Finally, gently tear strips of fabric, using the spots you snipped as your guide. Et v

oilà

! Fabric ribbon!
Practical and Reusable Gift Receptacles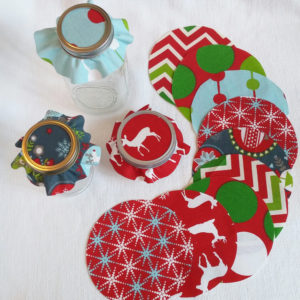 I'm a huge fan of giving multiple small gifts instead of one large one—it shows how much you really know someone and all the small things they enjoy. If you're a multi-gifter as well, mason jars, coffee flasks, and large water bottles are all reusable items ideal for housing a mish-mash of gifts.
For Christmas last year, I gave my sister a large, fancy water bottle filled with nail polish, socks, candy, lip balm, a small tube of hand cream, and some costume jewelry. What made it really exciting was that the water bottle was clear, so she got a little sneak peek at her gifts, building her excitement until she could open the bottle up and fully appreciate them all.
If you really want to go the extra mile, get an inspirational or humorous water bottle, or personalize a store-bought one with Sharpies. You can also customize jar lids with fabric scraps, or get really crafty and decoupage a coffee flask. Just remember that the container needs to have a wide neck so you can get the items in and out!
Any Bag Can Be a Gift Bag
I have a drawer full of the gift bags I've collected over the years. When I don't have time to wrap a present, I often grab one and go. Sure, gift bags are easier to reuse than wrapping paper, but they're just as hard on the environment. Most importantly, they lack a personal touch, which is really what makes a gift spectacular, right?
With some imagination, any bag can become a creative alternative to a gift bag. Canvas totes give a modern, rustic vibe, and often don't cost any more than a standard gift bag. And who couldn't use another grab-and-go tote around their house?
To add that personal touch, pick up some fabric paint and stencils at your local craft store and go to town. Just make sure to plan ahead—fabric paint can take up to 48 hours or longer to dry.
You can also buy premade, but equally crafty, fabric gift bags online. They're designed similarly to duffle bags, with a pull string at the opening, meaning they can be reused as a gift, laundry, or book bag. The flexible shape makes them my go-to for unusually-shaped items. Plus, some online stores will even let you order a bag in a custom design.
For a friend of mine who loves wine, I filled a quirky, clear ice cooler bag with small gifts, similar to the water bottle idea. As someone who loves wine, I really appreciate the wine ice cooler bags—they're lightweight, come in many beautiful designs, and can be reused to keep wine chilled. My friend and I both live in the southern hemisphere where summer peaks around Christmas Day—it's the perfect time to bring out an ice-cold bottle of Chardonnay!
We often say that the beauty of Christmas is in giving gifts, not receiving them. This year, we can give back to nature, as well as our loved ones, by wrapping gifts in an earth-friendly way, without compromising on personality or style. Sounds like a win-win to me!
For more eco-friendly gifting inspirations, peruse our Wellness Gift Guide and be sure to connect with us on Facebook, find us on Instagram at @Elfstergram, and on twitter @elfster.

Jeni is a music-loving, crafty boy mom of 2. When she's not crawling on the floor after her toddler, she can be found DIY-ing up a storm, coffee cup in hand—there's always a reason to party in her world.
Please follow and like us: