Christmas Wrapping Party Ideas to Get Organized While Getting in the Spirit
Christmas Wrapping Party Ideas to Get Organized While Getting in the Spirit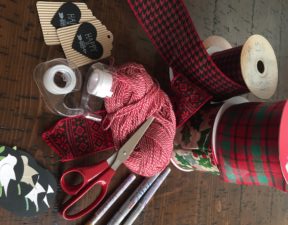 Gifts are my favorite Christmas decoration. Each present is its own story—mysterious and offering the promise of joy—and the wrapping paper is the prologue. Watching as they are opened, and the heartfelt gifts inside discovered, is the beautiful conclusion. Each box or bag is filled with potential, symbols of upcoming happiness that embody the giddy anticipation of the holiday season. So, yeah, I love wrapped gifts. But actually wrapping them, that's a whole other story.
Wrapping a Christmas' worth of gifts can be time-consuming and stressful. Really, it used to be the worst part of the season for me. I enjoy wrapping each individual one, but all of them together? Too much. So, last year I decided that I'd really buckle down and find a way to make it fun. I'd be organized to save time, have a plan to reduce stress, and make it an all-out event so that rather than be opposed to the Christmas spirit, wrapping helped to create the spirit inside of me.
I quickly realized a blend of organization techniques and seasonal fun would be required to reduce my stress. I also tried to keep in mind that what I was doing would end in joy, and sincere appreciation. By organizing my wrapping workstation, and inviting in the festive feelings, wrapping was no longer a chore—for me, it's become a warm and vital part of my Christmas traditions.
Start with Organization to Find the Fun
Creating a designated space was the very first thing I did last year. I went into my basement and set up a table specifically for wrapping—a folding table and chair are essential. If you have a craft table in a spare room, or a room specifically for crafts, you're ahead of the game. But if not, don't think that you can get away with sitting on the floor. You'll be very uncomfortable and sore after a few hours.
Next, make sure you have a comprehensive checklist. You aren't going to want to go out and get more supplies halfway through your gifts. Here's my basic checklist:
Tape

Scissors

Wrapping paper

Gift tags

Markers

Ribbon

White tissue paper

Gift bags with matching tissue paper, for those hard-to-wrap items
For a long time, I didn't really use gift boxes. After all, most of what I bought was in a box, and if it wasn't, I'd just wrap a very oddly-shaped present. But I've definitely begun to recognize the power of the gift box. I make sure to keep any box I accrue throughout the year for use at Christmastime—shoeboxes work great for this, and they can continue to be reused for years.
A theme—one specific color or general pattern—can also help you stay on task, and cut down on your needed number of supplies. This year I'm doing brown paper packages tied up with string. It's not bland, it's like something out of a Dickens' novel. Using cool twine adds a surprising, modern pop to this vintage look.
Sounds of the Season to Up the Spirit
Now that you've gotten organized to help make the wrapping go more quickly, you may start to realize that you don't need it to go faster. Indeed, taking your time and really getting into the spirit of the task should become an essential part of the season. In fact, you can make a party out of it!
That's right, this year I've decided to go all out—I'm inviting friends over for a wrap party. We're going to have a few workstations, with all of the organizational stuff listed above, so that everything runs smoothly. And, I'll be making a Christmas tunes playlist—my house, my carols. I always include everything from the classics to the quirky: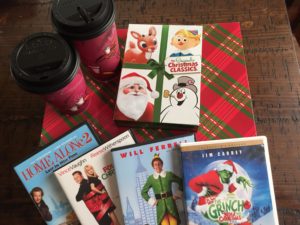 There's been some talk of showing our favorite Christmas movies in the background, whether Elf or It's a Wonderful Life. Having a movie on is a great tip, especially if you're working by yourself. You'll be surprised at how little you notice the job.
A Perfectly Festive Holiday Drink
Eggnog. Latte. Need I say more? I've got my espresso maker tuned up and ready to go. It's a really easy recipe as well—just milk, eggnog, and some nutmeg.
Add 1/3 of a cup of milk to 2/3 a cup of eggnog. Put the milk and eggnog blend in a pan and heat it to 150 degrees, then add a shot (1.5 oz) of espresso. Use the wand if you have an espresso maker to create a tasty foam, then sprinkle with nutmeg. It's delicious, and may be the taste of the season.
Have you ever thought about how Christmas, coming right after the solstice, is one of the longest and darkest nights of the year? The weeks leading up to it get progressively gloomier as the sun sort of slips away into an unmotivated gray—it gets up late, and goes to bed early. It could be a sad time.
But somehow it isn't. Somehow, it's one of the most magical times of the year. It's a season filled with love, and constant surprises. And that love, that spirit of joy, comes from within us because of the love we have for each other.
That's why wrapping gifts should be a fun and joyful undertaking. It's an expression of our hearts. Being organized, and making it into an event, lets the spirit of the season in. You're closing up boxes that are filled with limitless joy, ready to be torn open in a blizzard of squeals and smiles and the truest expression of childlike glee.
Doing wrapping right, then, isn't about closing. It's about opening: opening the delirious anticipation of Christmas morning, and opening yourself to the joys of the season.
Now that we've wrapped up, you can get started! Let Elfster help you pick the perfect gift from any of our featured wish lists—and be sure to connect with us on Facebook, find us on Instagram at @Elfstergram, and on twitter @elfster, for more gift giving and party hosting tips and tricks.

Brian thinks that giving someone a gift is just about the most fun you can have, so long as you don't stress out about finding the right one. He likes helping people not stress out during the holidays. Hit him up for ways to make your Christmas more fun.
Please follow and like us: