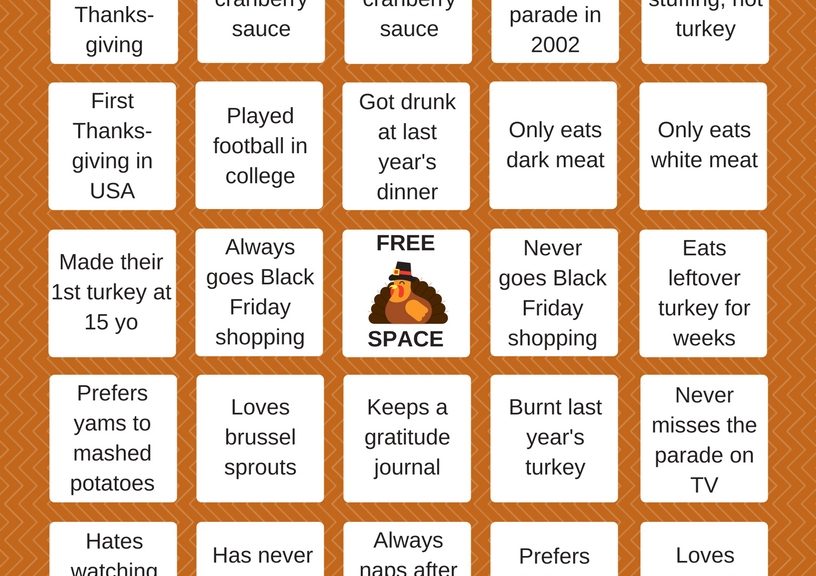 Get-To-Know-You Party Games That Make a Friendsgiving Feel Like a Family Gathering
Get-To-Know-You Party Games That Make a Friendsgiving Feel Like a Family Gathering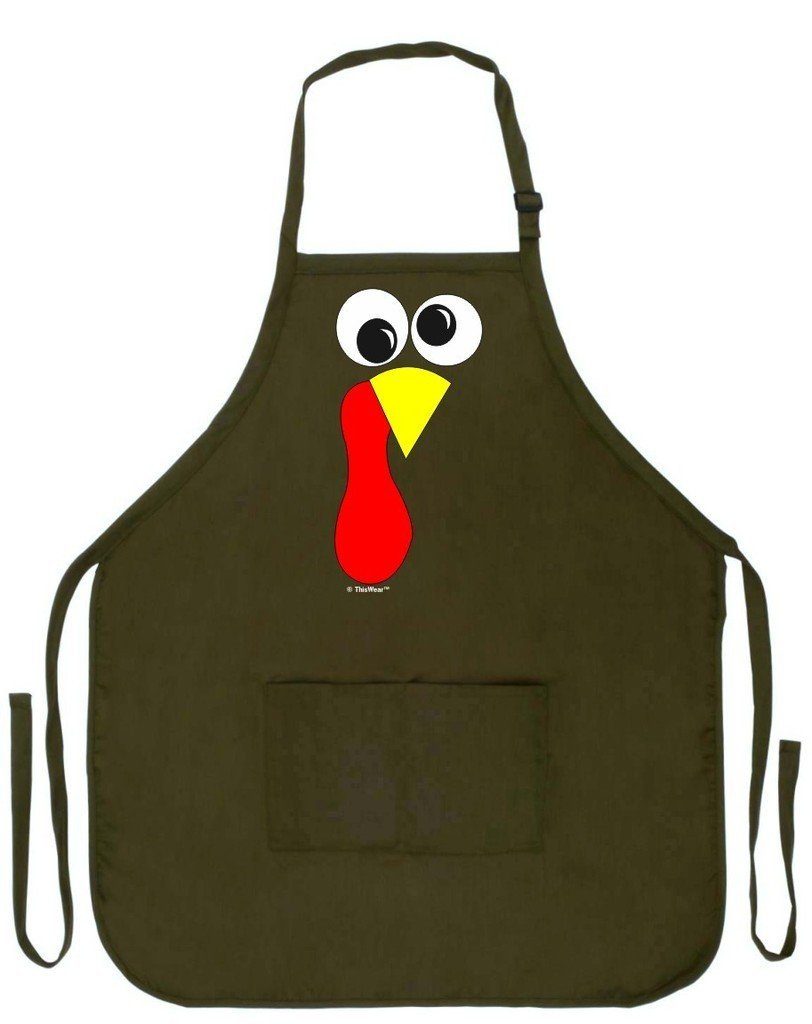 Now known in my circle of friends as "The Epic Bird Battle of 2015," I'll never forget watching my old college roommate Sarah wrestle with a 30lb turkey last Thanksgiving. If I can't be home for the holidays to enjoy my grandma's famous sweet potato casserole, or to watch my uncles debate over how to spice the gravy, there's nowhere I'd rather be than sitting at Sarah's kitchen counter, wine in hand, watching her in her themed apron, attempt to fit a giant stuffed bird into a pint-sized oven.
Since moving across the country six years ago, I haven't been able to make it home for many Thanksgivings. Luckily, I found a fellow group of "orphans" in my new city, and we relish the opportunity to spend some meaningful time together each Friendsgiving—it's become much more to us than our usual weekend of hanging out, watching Netflix, and ordering pizza.
Once we took the food to the next level with Sarah's monstrous turkey, we needed to elevate the rest of the evening as well. I was put in charge of the activities—and made it my goal to find party games that would bring out each of my friends' unique personalities.
Friendsgiving Bingo to Jumpstart Conversations
Sarah's home has an open door policy, so we're never surprised when new faces pop in on our celebrations—friends of friends, co-workers, neighbors—and I wanted them all to feel comfortable spending time together. As soon as guests walked through the door, I greeted them with a big grin—and a Friendsgiving Bingo sheet.
Here's what you'll need:
The Friendsgiving Bingo sheets

Bingo markers

Fun facts about your friends
Before the party, I rounded up Thanksgiving-related fun facts about each guest that not everyone would know. I then added them into the Friendsgiving Bingo sheet template.
When guests arrived, I handed each one a bingo sheet and a marker. Their job was to find out which fact belonged to which person by mingling and getting to know their fellow guests. Once they discovered whom a fact referred to, they used their marker to sign the bingo square containing the fact. Jess was the first one to get five in a row and shout, "Bingo!" Her prize was a pumpkin spice soy candle, but I like to joke that everyone wins at Friendsgiving Bingo because it gets the conversation flowing.
Put Your Friends in the Hot Seat with Speed Friending
As the delicious smells from the kitchen began to fill the apartment, we all headed into the living room to watch the Macy's Thanksgiving Day Parade. A "friendlier" version of speed dating, Speed Friending is the perfect game to play during commercial breaks—it's quick and always gets lots of laughs.
I came up with a list of A or B-style questions where guests would have to choose between two Thanksgiving-related things, like:
Dressing as football player for the parade or being an actual football player?

Having to eat a 20lb turkey by yourself or getting no turkey at all?

Wearing tight pants, but a baggy sweater, or a tight shirt, but baggy pants?

Singing karaoke to entertain your friends before dinner, or making all your friends join you for a dance party after dinner.
To play, pick a friend on each commercial break and instruct them to answer your questions as quickly, and honestly, as possible. You'll then rapid-fire read the questions to them and see how they do under pressure. When the show comes back on, the game pauses, but only until the next commercial break when someone new gets thrown into the hot seat. Once your guests get the idea, they'll begin throwing out questions of their own, which gets everyone involved and in on the laugh.
Crafty Fun with Personalized Placemats
With the all clear from Sarah that the turkey was almost ready, it was time to set the table. I had already put out a festive table runner, but I wanted to get my friends involved in personalizing the table decor.
As guests take a seat at the table, assign them each a friend to make a placemat for. Tell them to show off their recipient's personality on paper! It's really fun to see what people come up with, especially friends who haven't been around craft supplies since they were in elementary school. And since this activity is all about creative expression, any art supplies lying around the house will work perfectly.
Here's what you'll need:
Last year, I made placemats for my friend Sarah, who was too busy worrying about the turkey to join us in crafting, and my co-worker Dan. When she's not stuck in the kitchen, Sarah is all about the sparkle and bling. She loves bright colors, glitter, and rocking shiny jewelry.
Dan, on the other hand, is a bit simpler with his tastes. He's a graphic designer (talk about pressure to get creative) and prefers geometric patterns and lines to anything flashy. Dan is also all about the turkey at Friendsgiving, so I made sure to make the bird the focus of his placemat.
Get Sentimental After the Stuffing
After the last morsel of mashed potatoes had been licked clean from a plate, we all pushed ourselves back and let out a collective sigh. Dinner was delicious and, as is Thanksgiving tradition, we all stuffed ourselves silly. Just as the turkey coma started to settle in, it was time for the last game of the evening—and I knew just the game to end our Friendsgiving on.
Before the party, I wrote out a list of 10-20 positive statements that begin with "The person who…" I like coming up with a mix of both sentimental and silly statements:
The person who always makes me laugh

The person who lends me their shoulder to cry on

The person who would bail me out of jail, no questions asked

The person who gives the best advice

The person who will give in to their turkey coma and nap on the couch
To play the game, ask all of your friends to close their eyes. You'll read one of the statements, then count to three. On three, everyone will open their eyes and point to the person they think the statement best describes. There is almost never a unanimous vote—and everyone at the table always gets picked for something by someone. It's a sweet and simple way to see how much you mean to your friends, and remember how important they are in your life.
Before I knew it, dessert was being served, leftovers were packed up, and the parade was screening for a second time. With full bellies and fuller hearts, my friends slowly began departing.
Maybe it was the turkey talking, but looking back on the evening, I was so grateful to have such amazing friends to share the day with. Friends who not only want to sit down and have a meal together, but who want to remind each other of how important our friendships are, especially when we're far away from our families.
Let us know which of these personality party games you're going to play at your Friendsgiving, or share your own by connecting with us on Facebook, Twitter @Elfster, or Instagram @Elfstergram. Attending a Friendsgiving this year? Ask the host if you can prepare a game, and check out our Host/Hostess Gift Suggestions to help ensure you get invited back next year.

Jeni is a music-loving, crafty boy mom of 2. When she's not crawling on the floor after her toddler, she can be found DIY-ing up a storm, coffee cup in hand—there's always a reason to party in her world.
Please follow and like us: