Dorm Room Decor: 101
Dorm Room Decor: 101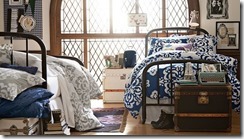 The long-awaited day has finally come. You're off to college and the next chapter in your life starts now. An exciting new world awaits, so don't let the cinder block walls and institutional furnishings get you down. Elfster is here to help with plenty of great solutions to deck out your dorm room in style. Our Off to College guide has the must-haves to make it a fresh, new start. Express your individuality and make yours the best dorm room on campus.
Make It Comfy
So it may not be as spacious as home, but you can make your cozy "home away from home" the perfect spot for sleeping, socializing and studying. Start with a great mattress pad to soften up the standard-issue bed. Add soft sheets, like the ones featured in our guide, and top it off with a comforter to match your personality. Don't forget to toss in lots of pillows to make those late-night study sessions much more productive!
Make It Organized
For small space living, great organization is a must. Take some tips from our Off to College guide to give your dorm room that polished and coordinated look. From shower sets and caddies to laundry bags and hampers, these stylish solutions will keep your daily routine perfectly efficient. Create an inviting study space with cool desk accessories, convenient storage bins and good task lighting to keep you on track all semester long. And don't forget the most important accessory for life on campus… a great alarm clock.
Make It Yours!
Make your dorm room a personal statement and surround yourself with things you love. Think you may feel a bit homesick? Take along and display photos of friends, family members and pets in a unique way using the Picture Pockets Photo Hanging Display to keep your loved ones close to your heart. Set a calm, relaxing mood with twinkly firefly string lights to enjoy your new surroundings with new friends. You don't have to sacrifice your personal style to create your perfect small space.
Are you heading off to college? Be sure to update your Elfster wish list with your must-haves for your perfect dorm room. And here's a great way to get to know your new dorm mates — host a gift exchange to celebrate the new school year. Our practical gift ideas are perfect for anyone and Elfster's secret Santa style gift exchanges are a great way to connect, no matter what the occasion. Need help? You can reach us via Facebook here. Tweet us @elfster or catch us on Instagram at #elfstergram.
Best of luck and here's to a successful year!
Wish. Gift. Shop. Share
Meghan L has been elfing it since she joined the team in 2009. She enjoys coordinating exchanges, talking to organizers, and all things Christmas. Join her for an eggnog latte anytime at Elfster.com
Latest posts by Meghan Langseder (see all)
Please follow and like us: