Angry Birds Land Smack-Dab on Elfster App
Angry Birds Land Smack-Dab on Elfster App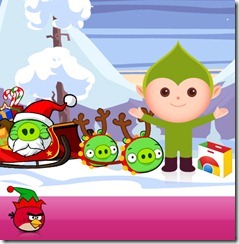 Squawk! A little birdie told us that Elfster is onto something BIG this Holiday Season… That little birdie then proceeded to hurl itself onto some unsuspecting livestock nearby, which we take to mean only one thing:
Elfster is going to be a part of an exciting new holiday level of Angry Birds on Google Chrome!
But what good are fun and games without a little touch of teamwork? For this devilishly thrilling endeavor, Elfster is joining forces with 3 other online holiday helpers to bring you one step closer to the Angry Birds yuletide bonanza. Elfster and the participating Apps will each contain a portion of a secret code. When you put that complete secret code together, you will be able to unlock that special holiday level of the game.
To get the Elfster portion of the code, first open the Elfster App for Google Chrome. Then, simply "Make a Wish" (might we suggest this pair of Angry Birds slippers?) and all will be revealed….
In addition to the Elfster App on Google Chrome, these are the other Apps you'll need:

Astrid
"Astrid is a to-do list that helps you get stuff done. Astrid therefore makes it really easy create lists, add tasks, set priority, and set due dates and times. But it's more than a personal to-do list. Astrid makes it easy to ask for help, delegate and share lists. All your task details are private by default, but it is free and easy to share things with as many people as you want."
Download the Astrid App HERE at the Chrome Web Store!
Earbits
"Earbits is personalized streaming radio with cojones. No ads, no commercials, no subscriptions…just bad ass music and a slick website with plenty of things to keep you busy. Explore and connect with killer bands across a huge variety of genres. Check out their Facebook page, follow them on Twitter. Share songs with your friends. Skip as much as you want. Or, just listen like a lazy bum."
Download the Earbits App HERE at the Chrome Web Store!

Hipmunk
"Hipmunk is a remarkable new travel search site that aims to take the agony out of travel planning. We designed our site to help people who are overwhelmed with pages of irrelevant search results. Flight results are presented in a visual 'timeline' that allows people to select the best flight for them at a glance. Hotel results are shown on a map so that people can view where in a destination they will be staying and the landmarks near them."
Download the Hipmunk App HERE at the Chrome Web Store!
With the power of these Apps combined, you can unlock that special seasonal level of Angry Birds, conquering the holiday in a blaze of glory that will have your opponents crying "Fowl!" Let the quest of the Bragging Rights begin!
PS- Don't have Chrome yet? Get Chrome with Elfster and Angry Birds Pre-Installed!
Latest posts by Stephanie (see all)