The Elfster Guide to First-Class Teacher Gifts
The Elfster Guide to First-Class Teacher Gifts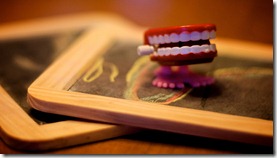 We elves are no strangers to tall pointy hats, but we're no "dunces" when it comes to holiday teacher appreciation, either! We know that a great gift can ensure "pet" status for even the rowdiest of rough-housers, but it can also be surprisingly difficult to choose an appropriate, yet personal way to thank the instructor.
Luckily, the answer to this holiday brain-teaser might be as close as your refrigerator door! That's right, your child's latest report card can serve as an excellent jumping-off point for selecting a primo present for the teacher. Today, we're giving you a few examples of how to decipher those cryptic comments, turning them into A+ gift ideas!  All it takes is a little reading between the lines…
Social Studies: "I applaud Aiden's budding interest in archeology. But unfortunately, his most prolific excavation thus far has been of his own nose."
This is desperate cry for help. While there is no known cure for childhood nose-picking, the best you can do is try to help your son's instructor encourage sanitary practices. These humorous tissue box covers are a good-natured and practical way to address the issue.
Math: "You'll be proud to know we've renamed that particular corner of the room after your daughter, Liz…"
If your child's desk has indefinitely been moved to the time-out chair, some act of contrition may be expected. A play on words is a light-hearted option for gifting in this case. With many space-saving desk accessories tailored to fit in corners, now your teacher can conveniently keep her school supplies out of sight and mind as well…  And they'll stay there until they're sorry!
History: "Jason's motor skills, though enviable, make naptime an ordeal to rival Bull Run."
Taking time to recharge after a long day of child-wrangling isn't always easy. But with this stylish docking station from Pottery Barn, at least Teacher's phone and electronics will have the luxury of a painless power boost. It won't fix Jason's faulty "sleep mode", but it'll make a great gift all the same.
Physical Education: "In all my years as Substitute P.E. Coach, I have never met a child with more enthusiasm for the art of square dance than your son, Wesley… The kid's a prodigy."
Country music might not be your genre of choice, but that's no reason to stifle the gift of the dance in your little two-stepper. By now, he's doubtlessly mastered all of the tracks on the "Square Dance: Unplugged" CD, so it's probably about time the coach move on to something more advanced. As a subtle hint, you can bet that Billboard's Greatest Country Christmas Hits will hit just the right chord. You can even buy Wesley a copy for practice!
Grammar: "Let's just say, Bella is a little too fond of words you won't find on the school-sanctioned vocab list."
We know. You have no idea where she gets it from. But Bella's penchant for choice words needs some attention and acknowledgement. You simply can't be there to censor everything she says in the classroom. That's why we love this Desk Gong featured on Amazon. The small-yet-mighty ornament impressively commands respect with just a flick of the wrist, while also adding a decorative touch to the workspace… We swear!
Science: "Missy's mid-term exams have led me to seriously consider buying stock in permanent markers."
Seeing a lot of red pen on your child's schoolwork this year? You might be hesitant to gift the teacher with another fancy writing instrument. But we say if you splurge on this ultra-limited edition Montegrappa for Ferrari Sterling Lacquer Red Ballpoint Pen, Teach will definitely think twice before ever using it! Now, we're not suggesting anything, but with this gift, Missy's grades might just improve dramatically…
These tips should give you a head start on finding the perfect teacher gift.  We hope you were taking notes! This material might just pop-up on the Elf Week Whippersnapper Roundup (wink, wink)!
Latest posts by Stephanie (see all)