Happy Ice Cream Sandwich Day!
Happy Ice Cream Sandwich Day!
Yes…another ice cream post. Now that it's August and the days of summer feel marked, we're wondering how much longer we can get away with eating ice cream for dinner. Thank goodness National Ice Cream Sandwich Day came along! This treat is typically made with chocolate chip cookies or those soft chocolatey cake-cookie hybrids found in ice cream trucks across America. And both are divine. But if you're looking for something a little unique or international, check out these four alternatives! At the end of the day, no matter how you choose to sandwich your ice cream, they'll be gone in no time!
An all-American rendition of Oreo cookies and vanilla ice cream from Healthy Food For Living.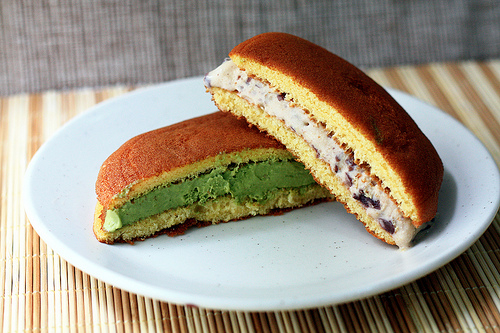 Green tea and red bean ice cream between pillowy Japanese pancakes (dorayaki) from my buttery fingers.
French matcha macarons with pistachio ice cream at Kirbie's Cravings might be our definition of heaven.
Airy Italian pizzelle cookies and Nutella add sweet texture to gelato at The Italian Dish.
Please follow and like us: